You cannot get wrong with Rikon when it comes to a credential brand with high-quality and versatile bandsaws. Notably, it will be a big mistake to overlook Rikon 10-306 vs 10-3061, which are considered excellent candidates for a brand-new addition to your toolbox.
But the problem is that, which one truly stands out? How different is the 10-306 from the 10-3061?
Let us help you! We are happy to share this in-depth comparison. Let's check it out now!
Differences Between Rikon 10-306 and 10-3061.
Image
The Winner (#1)
The Runner-up (#2)
The Winner (#1)
Image
The Runner-up (#2)
Image
In fact, Rikon 10-3061 is the redesign of the 10-306 version. Even though these two units bear quite a lot of resemblances, we still discover some differences between them! Primarily, in this comparison, we will discuss in terms of price, size, weight, and utilities.
Price
Price is always the first and foremost factor that you should pay attention to while hitting on the market for a power tool in general and a bandsaw in particular.
The cost of these two products varies around $400-$500. However, Rikon 10-3061 comes to the market at the price of about $450, which is still less than the version of 10-306. This is just a slight difference between them, so you had better consider other dissimilarities to make a wiser decision.
Size And Weight
If you take the first glance at the design of both Rikon 10-306 vs 10-3061, it is understandable to get the wrong impression that they have the same specs of size and weight. But they are actually not.
In detail, Rikon 10-3061 bandsaw weighs about 77.5 pounds as well as features the dimensions of 12.75 x 35.5 x 18.25 inches. Meanwhile, the opponent is heavier than Rikon 10-3061 nearly 6 pounds. At the same time, its dimensions are 35.4 x 18 x 12.7 inches.
As a result, it can be assured that Rikon 10-306 brings a bulkier design to users than the 10-3061 unit. You ought to determine the proper specs, according to your working space and your favorite type, to serve your works best.
Utilities
In comparison with the 10-306, Rikon 10-3061 has been improved to support you better with several outstanding additions.
On one side, the Rikon 10-306 is equipped with a dust port for shop vacuum hookups to help reduce the dust buildup with no effort. On the other side, Rikon 10-3061 is improved for more comfortable fitting. It is possible to attach the hoses.
One more outstanding feature of the Rikon 10-3061 bandsaw is the plastic inserts. It allows you to change the tilt of the fence carrier without any hassle. Plus, a low-friction pad leads to an effortlessly sliding rip fence system for smoother performance when you position the fence.
Product Videos
Quick Rundown Of Rikon 10-306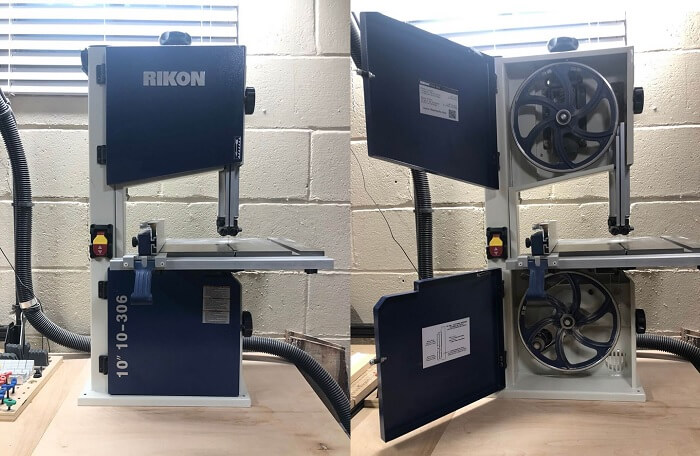 Rikon 10-306 10-Inch Bandsaw
RIKON 10-306 10" Bandsaw Motor: 1/2HP, 5.5amp, 110V/60Hz
Blade: width range 1/8" - 1/2"; length 70-1/2"; two speeds - 1,515 and 3,280 ft./min.; Cutting Capacity: cutting height 5" and cutting width 9-5/8"
Table Specifications: 13-3/4" x 12-1/2"; 5-deg. left tilt and 45-deg. right tilt; (1) 5/8" x 1/4" miter gauge slot; 12-1/4" x 2-3/8" adjustable rip fence
Overall dimensions: 34-1/4" H x 21" W x 16-1/4" D; base size 9-3/8" x 15-7/8"; net weight 77.5lbs.
Features tool-less blade guides; quick-release blade tension lever; large blade tracking knob and viewing window; dust port for shop vacuum hookup; and a safety paddle on/off switch. Comes with 5/16" x 6TPI regular blade and a 5-year limited warranty.
Pros:
Easy to use
Powerful motor for incredible cutting capacity
Durable
Cons:
Bulky design
Hard to change the blade

Quick Rundown Of Rikon 10-3061
Sale
Rikon 10-3061 10-Inch Bandsaw
Includes 10-3061 Deluxe Bandsaw and 5/16 x 70-1/2 6TPI bandsaw blade|Motor: 1/2HP 5.5Amp 110V (60Hz) 1720RPM Blade Speeds: 1515 or 3280 ft/min|Table Size: 13-3/4 x 12-1/2 Table Tilt: 5 degrees left 45 degrees right|Fence Size: 12-1/4 x 2-3/8 Dust Port Size: 2-1/2 OD 2-1/4 ID Base Size: 15-7/8 W x 9-3/8 D Overall Size: 34-1/4 H x 21 W x 16-1/4 D
Pros:
User-friendly
Precise cutting ability
Easy and simple blade changes and bearing adjustments without tools
Improved dust port
Compact enough to move around the working space
The easy sliding rip fence system
Cons:
Poor-quality included blade for resawing

Conclusion
Rikon has succeeded in manufacturing well-built bandsaws such as the 10-306 and 10-3061 versions. We highly praise these units for their numerous stunning features.
Can you make up your mind on adding which one to your toolbox in the shred? We do expect that our comparison of Rikon 10-306 vs 10-3061 is of a useful reference for you to make your decision.
Related posts:
>>> The 10 Best Cordless Band Saw For The Money
>>> The 10 Best 14 Inch Band Saw