Rikon has never let customers down when it comes to high-quality bandsaws. For this reason, every battle of its typical choices always becomes a hot topic around the world, and we cannot miss out on the confrontation between Rikon 10-324 vs 10-326.
If you are confused about which tool is superior, let our thorough review be your great assistant. Do not wait any further. Let's move on!
Image
The Winner (#1)
The Runner-up (#2)
The Winner (#1)
Image
The Runner-up (#2)
Image
Differences Between Rikon 10-324 and Rikon 10-326.
Rikon always strives to provide such good-quality band saws at a reasonable price. And both Rikon 10-324 vs 10-326 are not an exception. But the matter is whether these two items have any differences or not. Hence, we are going to discuss in terms of price and utilities in this article.
Price
These Rikon bandsaws have a price range of $1100 to $1400, and Rikon 10-326 is slightly pricey than its opponent.
But it would be best if you remembered that price could be the first but not the most crucial factor while you consider a tool. You should take into account some other specs that we will mention below.
Utilities
Although having the same dimensions, Rikon 10-324 and Rikon 10-326 hold a noticeable difference in weight. To be more specific, RIKON 10-324 weighs at 215 pounds, which is 65 pounds lighter than the 10-326 item. As a result, you will find it much more effortless to transport the 10-324 bandsaw around your area than its counterpart.
If you look for a bandsaw with superior performance and stability, you will feel completely satisfied with these Rikon products. They are all driven by a powerful 115 dual volt motor and generate two blade speeds including 1,445 FPM and 2,950 FPM. As a result, it is not a big deal to tackle the resawing and cutting of lumber, plastics, non-ferrous metal, or composites.
However, their motor horsepower and wattage have made a few differences to be mentioned. While RIKON 10-324 is powered with 1-1/2 HP TEFC and 1125 watts, its opponent has 1-3/4 HP TEFC and 1312 watts. Thus, we can assert that Rikon 10-326 is on another level.
On top of that, Rikon has equipped the 10-326 unit with three stunning features that you cannot find in the 10-324.
First, the spring-loaded blade guides assist you in setting up the guides without wrenches easily. Second, its rip fence is better than RIKON 10-324 thanks to its quick adjustment for drift within a few knobs.
Third, you will be amazed at its quick-lock table trunnion system that gives additional support to unlock the gear and set up table angles quickly.
Additionally, it is worth mentioning that the Rikon 10-326 bandsaw comes with a closed stand while the 10-324 has the opened one, which cannot hold the item well.
Quick Rundown Of Rikon 10-324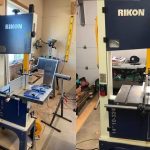 Sale
Rikon 10-324 14
Ball-Bearing Blade Guides - Upper and lower ball-bearing blade guides and thrust bearings reduce friction, increase blade life and contribute to the smooth operation of the machine during cuts
Rack and Pinion Guide Post – Adjust the cutting depth easily with the turn of a knob. New inch scale helps set guide heights
Extra Tall Rip Fence – Increased fence and re-saw bar heights of 6" give added support of lumber being ripped or re-sawn
Rear 115V Power Outlet – Handy electrical outlet for plugging in lights, radios, phone chargers and more
Takes 111" Blades – Band saw accepts all styles of 111" long blades from 3/16" to 3/4" in width
Pros:
Easy to transport around
Provides sufficient powerful motor
Amazing cutting capacity
Versatility
Has an attractive price point
Cons:
Lacks work light
Has a weaker open stand compared to its opponent

Quick Rundown Of Rikon 10-326
Rikon 10-326 14
Three Innovative, Patent Pending features make adjusting this redesigned band saw easier than ever before!
Spring Loaded, Tool-Less Blade Guides – easy & fast setting of the guides without wrenches!
Quick-Adjust Rip Fence – adjusts for drift with the simple turning of a few knobs! No tools needed
Quick-Lock Table Trunnion System – handy lever and gear unlock and set table angles in seconds!
Extra Tall Rip Fence – Increased fence and re-saw bar heights of 6" give added support of lumber being ripped or re-sawn
Pros:
Has spring-loaded, tool-less blade guides
Improved rip fence for better adjustment
Comes with the quick-lock table trunnion system
Delivers powerful motor
Excellent cutting capacity
Cons:
Quite heavy
A little bit pricey

Conclusion
Thanks to their high-end performance, both Rikon 10-324 vs 10-326 undeniably deliver all you can expect from a bandsaw. We believe that Rikon 10-326 perfectly fits for professional woodworkers who look for a superb tool.
But in case you are on a budget and just want to purchase a good bandsaw with sufficient power, you cannot go wrong with the 10-324 product. Hopefully, you can determine which tool suits your demands better through our comparison.
Popular Alternatives Worth Considering:
Related posts:
>>> The 10 Best Cordless Band Saw For The Money
>>> The 10 Best 14 Inch Band Saw