Both Rikon and Grizzly are brilliant brands in the bandsaw manufacture. That's why thousands of people still waver between Rikon 10-305 vs Grizzly G0803. Are you knowledgeable enough to make up your mind on the more superior unit?
Well, do not worry because you get our help! Here is a comprehensive evaluation of these two products. Do not hesitate to take insights into this article for a better choice.
Differences Between Rikon 10-305 and Grizzly G0803
Image
The Winner (#1)
The Runner-up (#2)
The Winner (#1)
Image
The Runner-up (#2)
Image
Both Rikon 10-305 and Grizzly G0803 actually share a lot of specifications in common, but they are somewhat different from each other. Today, we will discuss in terms of the cost, utilities, and maintenance.
Price
It must be mentioned that these two products are relatively cheap with a price range of less than $400, compared to other bandsaws on the market. Whereas Rikon 10-305 costs around $350, Grizzly G0803Z offers a more economical price of over $300.
However, do not let the cost fool you. Numerous noteworthy features are waiting for you ahead to explore before deciding to purchase which one.
Utilities
Rikon 10-305 vs Grizzly G0803Z are all marketed as good-quality benchtop bandsaws, with sufficient 1/3 HP motor, sturdy and durable steel frame. We will list some unique distinctions for you to consider.
Speaking more of cutting capacity, we realize that Rikon's product is undeniably on another level.
The 10-305's blade delivers the length of 70-1/2 inches and the speed of 2780 FPM. Meanwhile, the other candidate comes with a 62-inch blade and 2460 FPM speed. Thus, the bandsaw from Rikon does a more amazing job of cutting through wide and thick materials without effort.
Also, this item enables you to cut stock flexibly thanks to an adjustable table tilting 45 degrees to the right. Unfortunately, we cannot find this stunning feature from the Grizzly unit.
When it comes to weight, you will easily notice that Rikon 10-305 offers a more bulky design than its opponent. In fact, this Rikon bandsaw weighs about 75.8 pounds, 33.8 pounds heavier than the Grizzly one. For that reason, you will find it effortless to lift the G0803Z unit up and transport it from place to place in comparison with the 10-305 one.
What makes Grizzly G0803Z superior to Rikon 10-305 is its new laser guidance system. Rest assured that your visibility is enhanced while you are following a cutting line.
Maintenance
There is a big gap between the maintenance of these two items that you should know.
Grizzly G0803Z is supported with a one-year warranty, backed off by US Based Support. Its short time can make some of you think again before making a decision.
Instead, buyers can enjoy a five-year warranty policy of the Rikon 10-305 bandsaw. As a result, you will feel more secure about using this tool for the long term. Sounds wonderful, right?
Quick Rundown Of Rikon 10-305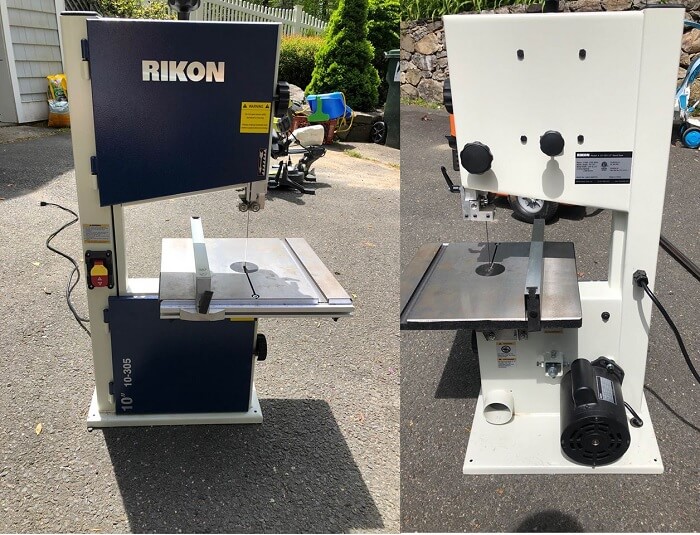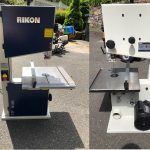 Sale
Rikon 10-305 10-Inch Bandsaw
Solid Steel Design- The 10-305 is a scaled down version of the popular 10-345 and 10-325. Frame is made of steel plate, stronger than plastic frames used by other manufactures
Cast Iron Table-Large 13-3/4-Inch by 12-1/2-Inch sturdy work surface, a feature not typically found on a bandsaw of this size
Rip Fence- A quality rip fence is now included. Easily removed to do free hand work
Motor - 1/3HP motor provides ample power for cutting bowl and pen blanks
Micro Adjustable Guide Post- Raise and lower the guide post height with the turn of a handle
Pros:
Offers steel construction for durability
Easy to use
Sufficient motor for cutting plastic, wood, and soft metal
Versatility
Reasonable cost
Cons:
Quite bulkier than its opponent
Hardly meets the demand for high power and large cutting capacity

Quick Rundown Of Grizzly G0803Z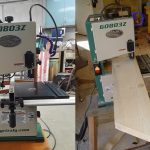 Grizzly G0803 9-Inch Bandsaw
Includes rip fence, adjustable blower and laser guide
Awarded as Top Value by Wood Magazine
1/3 HP Motor - Steel Frame and Doors
1 Year Warranty - US Based Support
9" Cutting Throat & 62" Blade Size
Pros:
Comes with laser and LED work light
Lightweight and durable design
Affordable price
Great warranty
Cons:
Relatively limited cutting capacity due to its engine, speed and blade length

Conclusion
Both Rikon 10-305 vs Grizzly G0803 all come with some stunning features that make you end up being satisfied. You just need to consider which one suits your needs more to make a decision.
Can you find out the answer to the better bandsaw after reading our comparison? We do expect that you can. Now, it's time to do some shopping!
Popular Alternatives Worth Considering:
Related posts:
>>> The 10 Best Cordless Band Saw For The Money
>>> The 10 Best 14 Inch Band Saw