A bandsaw is undeniably a versatile power tool that every DIYer needs. Hence, there is a large number of models out there that allow you to choose freely.
However, if you are presented with two recommendations of the bandsaw simultaneously, distinguishing to pick up the nicer one will be the most daunting task. Particularly, the battle between Rikon 10-305 vs 10-306 today will surely puzzle you.
Who wins? Who loses? If you find it challenging to decide on the winner, let this review be your guide. Stay tuned and take a glance at our article!
Image
The Winner (#1)
The Runner-up (#2)
The Winner (#1)
Image
The Runner-up (#2)
Image
Differences Between Rikon 10-305 and 10-306
10-305 vs 10-306 are among the top outstanding bandsaws of Rikon. However, coming from the same brand does not mean that they are exactly the same. There are some differences between them that we will compare in terms of price, weight, and utilities.
Price
When it comes to the price, Rikon 10-306 is a bit higher than 10-305. Specifically, the Rikon 10-305 bandsaw comes into the market at the price range of about $350; meanwhile, the 10-306's price lies in the $500 category. If you are on a tight budget, you can opt for the 10-305 bandsaw.
But why is there a big difference in the cost of these two items? It must lie in other dissimilarities that we will discuss below.
Weight
If you are more likely to choose a lightweight design, both Rikon 10-305 vs 10-306 live up to your expectations. They are both light enough for you to move around without breaking a sweat.
In a more specific angle, the 10-306 unit is heavier than the 10-305 one about 7 pounds. However, it does not make a big difference at all.
Utilities
In general, these models are quite similar to each other concerning features and specifications. But they are not exactly the same.
You can tell from the motor. 10-306's engine delivering 5.5 AMP, 0.5 HP, and 60Hz, which is much more robust than the 10-305 version.
As a result, while you find it difficult to cut high-density material like metal sheet by Rikon 10-305, the 10-306 product does a more excellent job.
Plus, this Rikon deluxe bandsaw comes with the extra cutting capacity of 9-5/8 x 5 inches instead of 9-5/8 x 4-5/8 inches like the other one. Most notably, you will be amazed at the various speeds that Rikon 10-306 generates. It has two rates, including 1,515 and 3,280 FPM, which are much more versatile than the 10-306 product with only one speed of 2780 FPM.
Additionally, Rikon has added some other innovative features to 10-306 unit to make it truly an advanced version of the old 10-305. Specifically, they include tool-less blade guides, large blade tracking knob, improved rip fence, dust collection system, and extra blade tracking visibility.
In sum, all these improved things have contributed significantly to clean, fast, and smooth cuts that you will benefit from Rikon 10-306.
Quick Rundown Of Rikon 10-305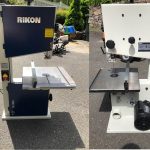 Let's take a deep dive into some pros and cons of Rikon 10-305.
Rikon 10-305 Band Saw
Solid Steel Design- The 10-305 is a scaled down version of the popular 10-345 and 10-325. Frame is made of steel plate, stronger than plastic frames used by other manufactures
Cast Iron Table-Large 13-3/4-Inch by 12-1/2-Inch sturdy work surface, a feature not typically found on a bandsaw of this size
Rip Fence- A quality rip fence is now included. Easily removed to do free hand work
Motor - 1/3HP motor provides ample power for cutting bowl and pen blanks
Micro Adjustable Guide Post- Raise and lower the guide post height with the turn of a handle
Pros:
Easy to use no matter whether you are a beginner or a professional
Its motor is only enough to go through plastic, wood, and soft metal
Sturdy and durable construction with solid steel frame
Affordable price
Cons:
Only suitable for those who do not need high power and large cutting capacity

Quick Rundown Of Rikon 10-306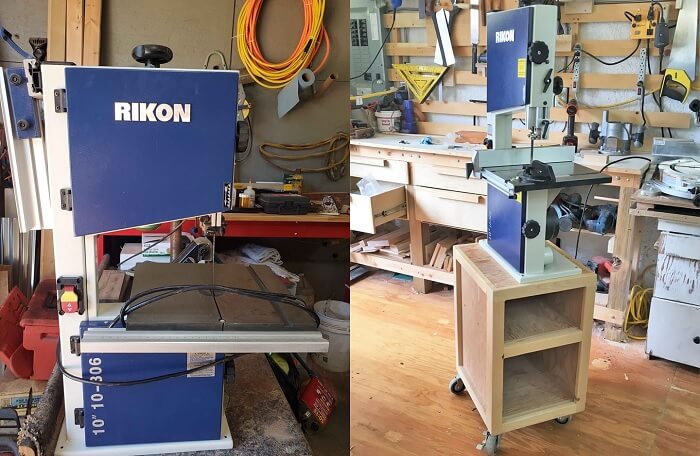 How about Rikon 10-306? Scroll down to find out more!
Rikon 10-306 Band Saw
RIKON 10-306 10" Bandsaw Motor: 1/2HP, 5.5amp, 110V/60Hz
Blade: width range 1/8" - 1/2"; length 70-1/2"; two speeds - 1,515 and 3,280 ft./min.; Cutting Capacity: cutting height 5" and cutting width 9-5/8"
Table Specifications: 13-3/4" x 12-1/2"; 5-deg. left tilt and 45-deg. right tilt; (1) 5/8" x 1/4" miter gauge slot; 12-1/4" x 2-3/8" adjustable rip fence
Overall dimensions: 34-1/4" H x 21" W x 16-1/4" D; base size 9-3/8" x 15-7/8"; net weight 77.5lbs.
Features tool-less blade guides; quick-release blade tension lever; large blade tracking knob and viewing window; dust port for shop vacuum hookup; and a safety paddle on/off switch. Comes with 5/16" x 6TPI regular blade and a 5-year limited warranty.
Pros:
Various blade speed for faster and easier cutting process
Comes with a powerful motor that tackles many challenging jobs
Rigid bandsaw frame for accurate resawing
Additional stunning features including blade tracking visibility, large blade tracking knob, improved rip fence, dust collection system, etc.
Cons:

Conclusion
Have you found out a satisfactory answer for the winner through our comparison of Rikon 10-305 vs 10-306 yet?
Each item has its own strengths and weaknesses, but it cannot be denied that Rikon 10-306 is the advanced version of 10-305. If you are capable of paying for this unit, we recommend that you grab one without hesitation because it will never fail to please you. Consider your demand and make a wise decision!
Popular Alternatives Worth Considering:
Related posts:
>>> The 10 Best Cordless Band Saw For The Money
>>> The 10 Best 14 Inch Band Saw