Sun Joe is a prevalent brand in manufacturing outdoor and gardening tools. Both SPX3001 vs SPX4000 models gain a reputation as the high-quality electric pressure washers in the market.
It is all thanks to the same engine power of up to 1.76 GPM of water flow and 2030 PSI of water pressure thanks to the robust motor of 14.5-Amp and 1800-Watt.
But the matter is that users find it such a hassle to decide on which option is better and more suitable to their requirement? Sun Joe SPX3001 or SPX4000? Check out this post to have a satisfactory answer now!
Differences Between Sun Joe SPX3001 vs SPX4000-PRO
Image
The Winner (#1)
The Runner-up (#2)
The Winner (#1)
Image
The Runner-up (#2)
Image
Sun Joe SPX3001 vs SPX4000-PRO – Which One Is More Convenient?
Convenience is a crucial factor that every user should consider before making an informed decision. And these two models have shown a significant difference in this term.
In more detail, Sun Joe SPX3001 has dimensions of 14.4 x 16.5 x 33.5 inches and weighs about 32 pounds. On the contrary, its opponent is much bulkier, with dimensions of 21.2 x 19.33 x 36.64 inches and a weight of 41.9 pounds.
As a result, we can come to the conclusion that Sun Joe SPX3001 is undoubtedly the winner when it comes to comfort portability. It is relatively light for you to bring anywhere without breaking a sweat.
Engine Power
What decides a top-notch pressure washer lies in the motor power that it can deliver. As we have mentioned above, the power of SPX3001 and SPX4000 pressure washer is exactly the same.
Although these two products are not the most robust beasts, they can tackle the light, medium, and heavy-duty tasks without a hassle.
Indeed, we cannot determine which tool is better here.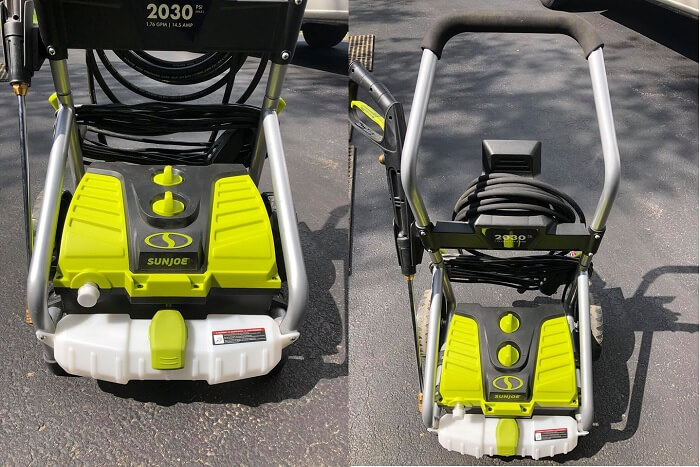 Stunning Features And Included Accessories
What makes Sun Joe SPX3001 superior is the 20-feet onboard hose reel that contributes significantly to the effortless and quick clean-up and storage.
Buying this product will receive such a couple of included accessories as a 20-foot high-pressure hose, a 34-inch extension wand, a garden hose adaptor, a 35-foot GFCI extension power cord, and a tool for needle cleaning. What a bargain!
Of course, although Sun Joe SPX4000 actually lacks some SPX3001's features, it does not yield to the previous model.
This tool comes with the pressure select technology that enables you to opt for two cleaning options. They include the low setting of 1450 PSI to clean everyday dirt or grease, and the high mode of 2030 PSI to deal with even the toughest stains.
On top of that, this model is equipped with an extra-large 54.1 fl oz. onboard detergent tank to help you work longer without refilling the soap tank. No doubt it is a better option for those who do not want to refill several times during usage.
Like its opponent, the SPX4000 unit includes a 20-foot high-pressure hose, an extension wand, a power cord with GFCI protection, a needle clean-out tool, as well as a garden hose adaptor. You have got all the tools required to join hands with your project immediately.
Quick Rundown Of Sun Joe SPX3001
Sale
Sun Joe SPX3001 Pressure Washer Review
POWERFUL MOTOR: Powerful 14. 5-amp/1800-Watt motor generates up to 2030 PSI/1. 76 GPM for maximum cleaning power
QUICK-CONNECT SPRAY TIPS: 5 Quick-Connect spray tips (0?, 15?, 25?, 40? and soap) tackle light, medium and heavy duty cleaning tasks
ONBOARD REEL: Onboard reel keeps 20 ft. (6m) high pressure hose organized for quick and easy clean-up and storage
TSS (Total Stop System): Automatically shuts off pump when trigger is not engaged to save energy and prolong pump life
DETERGENT TANK: Extra large onboard 40. 6 fl oz. (1. 2 l) detergent tank. Water inlet temperature (max) - 104 degrees farenheit
Quick Rundown Of Sun Joe SPX4000-PRO
Sun Joe SPX4000-PRO Pressure Washer Review
Powerful motor: powerful 14.5-Amp motor generates up to 2030 psi/1.76 GPM for maximum cleaning power
Pressure select technology: choose from two powerful cleaning options - low/1450 psi for everyday dirt, grease plus grime, and high/2030 psi to tackle your toughest cleaning tasks. Max rating per CSA test standards is 2030 psi. Under typical load, working pressure is 1450 psi.
Detergent tank: onboard 54.1 fl oz. Detergent tank lets you dial-in just the right amount of detergent to give your cleaning blast a boost
Pro version: comes with quick-connect turbo head Spray nozzle (spx-tsn-34s). turbo spray nozzle cleans 40 percent faster than a standard nozzle
We've got you covered: your new pressure washer is backed by the snow Joe plus Sun Joe customer promise. We will warrant New products for two years from the date of purchase. No questions asked.
---
Product Videos
The Bottom Line
Sun Joe SPX3001 vs SPX4000 washers feature a couple of impressive features, so it is tricky to pick out the winner. After considering carefully, we highly praise the SPX3001 model more because it perfectly fits many types of outdoor cleaning projects.
However, it is based on your preference to make an informed decision. Good luck with your shopping!