Our article today is the review of Sun Joe SPX3500 vs SPX4000 Electric Pressure Washers.
We will see the common features of the two equipment, then compare them and have a look at the pros and cons of each equipment. In the end, you will be consulted on which one you should go for. Without further ado, let's see what's inside these two models.
Sun Joe SPX3500 and SPX4000 – Common Features
Sun Joe SPX3500 and SPX4000 feature five quick connecting spray nozzles that vary in 0°, 15°, 25°, 40° and a nozzle for soap setting to apply detergent. You can perform from the lightest to medium and the most heavy-duty tasks by merely adjusting the nozzles.
The two machines are also equipped with the Total Stop System to automatically shut off the pump when the trigger is not engaged to save energy and prolong pump life, preventing the motor from continually running and avoiding heat damage.
Image
The Winner (#1)
The Runner-up (#2)
The Winner (#1)
Image
The Runner-up (#2)
Image
Differences Between Sun Joe SPX3500 and SPX4000
Convenience
The design of SPX3500 is excellent and durable. It comes in a size of 16.70 x 14.50 x 36.00 inches and weighs 46.5 pounds. The machine has a large detergent tank of 1.2 L.
On the other side, the SPX4000 is much more portable and helpful, as it weighs only 27.8 pounds and has a dimension of 37 x 18 x 22 inches, along with a detergent tank of 1.5L.
So, it seems that Sun Joe SPX4000 is more convenient in storage and transportation than the SPX3500.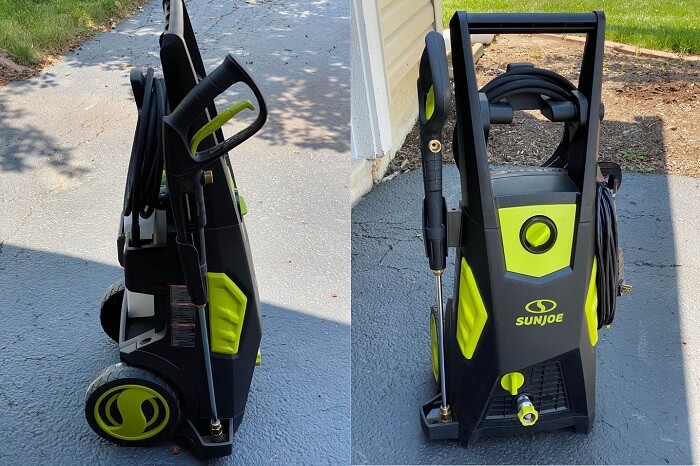 Power
SPX3500 equips with a 13-Amp motor, which is lower than that of the SPX4000, which possesses a 14.5-Amp motor that uses pressure-select technology.
The motor of SPX3500 can generate up to 2300 PSI and 1.48 GPM. SPX4000, on the other hand, generates up to 2030 PSI using 1.76 GPM. Both powers are uninterrupted to provide a consistent and maximum cleaning process on the toughest dirt and grunge.
Based on this information, it's undeniable that the winner in the battle of power is SPX4000.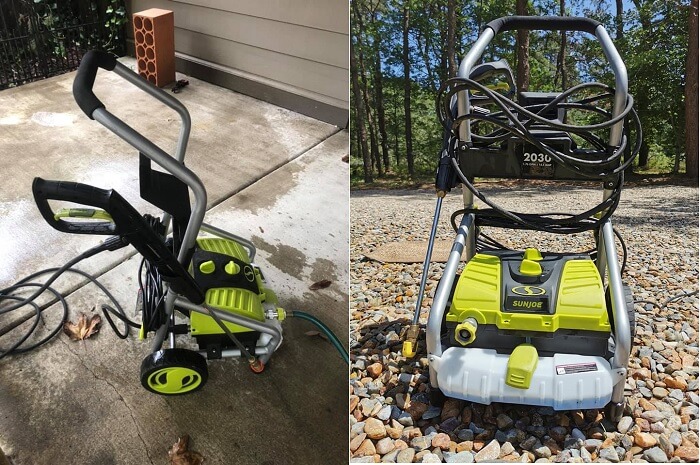 Special features
The SPX4000 satisfies its users by the Pressure Select Technology, which comes with two gears to operate under different pressures.
The low setting coming in 1,450 PSI is ideal for cleaning everyday grime and grease. Spinning the dial to the high setting of 2,030 PSI, you will get rid of the toughest dirt.
An outstanding feature of SPX3500 is the long-lasting capability of the induction brush motor. By saying that, the motor helps the machine run at much higher speeds for a longer time than universal motors.
Quick Rundown of Sun Joe SPX3500
Sale
Sun Joe SPX3500 Pressure Washer
[POWERFUL MOTOR]: 13-amp/2,000 W brushless induction motor blasts away the most stubborn dirt, tar, mud, and other caked on gunk + grime.Maximum Water Inlet Temperature : 104°F/40°C
[DETERGENT DIAL]: Adjustable detergent dial lets you dial in just the right amount of soap from the 40.6 fl oz. onboard detergent tank
[TSS (Total Stop System)]: Automatically shuts off pump when trigger is not engaged to save energy and prolong pump life
[WE'VE GOT YOU COVERED!]: We will warrant new products for two years from the date of purchase. NO QUESTIONS ASKED. Contact Snow Joe + Sun Joe customer support at 1-866-766-9563 for further assistance.
Pros:
Excellent motor and pump
Good material of the washer hose
Effortless assembly
A holster for the gun to avoid slipping out
Fairly quiet during operation
Safety lock available
Cons:
No trigger lock so long-hour jobs
Cumbersome to carry up-stairs
The water output is a little low

Quick Rundown of Sun Joe SPX4000
Sun Joe SPX4000 Pressure Washer
POWERFUL MOTOR: 14.5-Amp motor
PRESSURE SELECT TECHNOLOGY: Choose from two powerful cleaning options - LOW for everyday dirt, grease plus grime, and HIGH to tackle your toughest cleaning tasks.
DETERGENT TANK: Onboard 54.1 fl oz. Detergent tank lets you dial-in just the right amount of detergent to give your cleaning blast a boost
PRO VERSION: Comes with quick-connect turbo head Spray nozzle (spx-tsn-34s). turbo spray nozzle cleans 40 percent faster than a standard nozzle
Pros:
Good pressure
Fairly lightweight
Easy to move around and maneuver
High-quality and durable materials
The Pressure Select Technology
Cons:

Final verdict
Personally, we recommend you opt for Sun Joe SPX4000 for more convenience in transportation and storage. Moreover, its motor is much more robust to handle a variety of cleaning tasks.
We hope our review of Sun Joe SPX3500 vs SPX4000 helps you pick out your good pressure washer.
All in all, you may also need to consider your budget and working purposes to decide your favorite.