The Westinghouse iGen2500 vs Honda EU2200i? It can be reluctant even to match these things up because they are offered at different prices, and people tend to associate the value with its cost.
However, trust me! These generators deserve to be each other's competitors in a comprehensive comparison. Let us show you why!
Differences Between Westinghouse iGen2500 vs Honda EU2200i
To begin with, we will compare these products based on the following criteria: Price, portability, and power.
Power
Westinghouse iGen2500 has a running wattage of 2000 W. This power allows it to power more equipment and tools. Besides, it is also possible to provide an initial strength of 2500w, which makes it easy to start devices that require a higher level of additional power to operate.
With this engine, Westinghouse-branded products can operate for up to 10 hours continuously at only 25% of the generator's maximum capacity.
Also, at this load level, this machine has a fuel consumption of 0.1 gallons per hour. This little figure shows that Westinghouse has achieved impressive energy efficiency. During operation, Westinghouse produces a noise level at 52 dB.
On the contrary, as the product name indicates, Honda has a running watt of 1800w with the starting power of 2,200 W.
At 25% load compared to the maximum, Honda EU2200i just gives a run time of 8.1 hours continuously and consumes 0.12 gallons per hour. A plus point for Honda engine is that it produces a lower noise level at 48 dB, which means almost no effect to the user. The noise this machine makes is not even that of a normal conversation.
Thus, despite the lower price, the Westinghouse product is more overwhelming in terms of power and fuel efficiency. The bright spot for Honda is its quiet operation mode.
You can look at the comparison table below for more detail:
Image
The Winner (#1)
The Runner-up (#2)
The Winner (#1)
Image
The Runner-up (#2)
Image
Portability
The two products are designed to be very compact, and none of them will take up much space. At 48 pounds, the iGen2500 weighs a bit heavier than HonEU2200i, which weighs 46.5 pounds.
Quick Rundown Of Westinghouse Igen2500.
Westinghouse Igen2500
1800 Rated Watts and 2200 Peak Watts at Less Than 3% THD - Weighs Only 47.4 Lbs. - Gas Powered - Two 120V 20 Amp Outlets; Two USB Outlets.Alternator Type : Permanent magnet. Maximum Ambient Temperature: 104°F (40°C).
Great Choice for Home Use as an Emergency Backup in a Power Outage - Strong Enough to Run All Your Home Essentials
Extremely Quiet, Extremely Fuel Efficient: as Low as 52 dBA Noise Output and 12 Hour Run Time on a 1. 2 Gallon Gas Tank - Features "Economy Mode" for Maximum Fuel Efficiency
Parallel Capable - Combine Your iGen2200 with the Westinghouse WH2200iXLT; iGen1200; iGen2200; and iGen2500 to Increase Available Wattage and Amperage (Requires Westinghouse Parallel Cord)
All Westinghouse Portable Generators are Functionally Tested in the Factory and May Contain Minimum Residual Oil and/or Fuel Odor; EPA and CARB Compliant; Backed By 3-Year Limited Service; Labor; and Parts Coverage and Nationwide Customer Service Network
Pros:
Easy to use
Parallel connection capability
Lightweight
Budget-friendly
Data centre with digital fuel gauge
Cons:
Not suitable for heavy-duty tasks
No wheel kit

Quick Rundown Of Honda EU2200i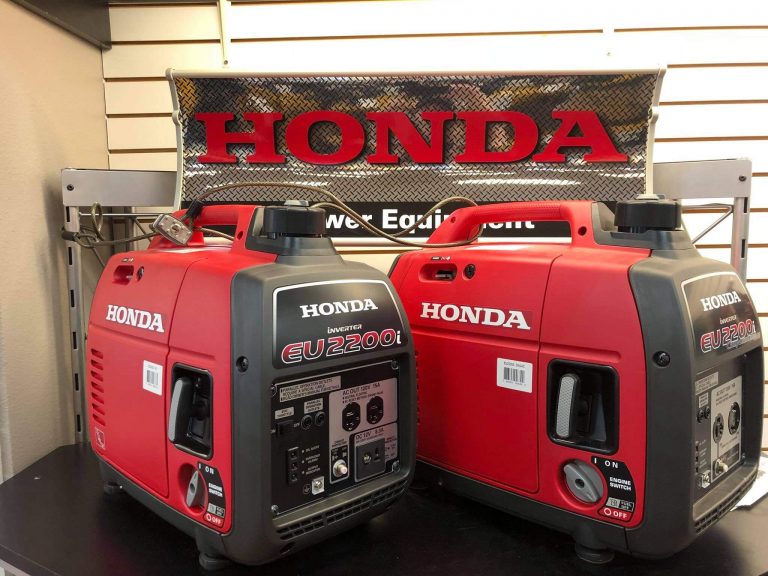 Sale
Honda EU2200i
This popular model can operate a wide variety of appliances, making it perfect for portable use at home, camping, on the job site, or much more. Reliable Power is now at your fingertips with Honda's Inverted Generators.
So quiet, your neighbors will thank you. The EU2200i operates at 48 to 57 dBA, which is less noise than a normal conversation. This makes it ideal for camping, supplemental RV power and any other activity that requires quiet operation.
Add a second EU2200i for additional power. Two identical models can be paralleled with an optional cable or cord for up to 4400 watts of power, or time-consuming applications.
Thanks to our exclusive Eco-Throttle System, the EU2200i offers great fuel efficiency. Runs 4.0 to 9.6 hours on a single tank, depending on the load. This makes it the ideal choice for overnight power, or long-time applications.
Honda's inverter technology means stable, clean power in a smaller, lighter package. The precision of Honda's inverter technology ensures our inverter generators produce power that is as reliable as the power you get from your outlets at home.
Pros:
Reputable manufacturer
Very Quiet
Portable and lightweight
Fuel-Efficient
Lightweight, easy to move around
Good warranty policy
Cons:
Lack of electric start
No data centre

Conclusion
As we mentioned before, Westinghouse iGen2500 vs Honda EU2200i is not at all a lame comparison. In our opinion, although iGen2500 is much cheaper than EU2200i, it shows outstanding points.
It is more powerful, more comfortable to use with the data center, and also operates longer. What about you? Do you agree with us? If not, tell us the reasons in the comment section below.