Westinghouse ipro2500 vs igen2500 models come from the well-known brand of Westinghouse Electric Corporation. If you are seeking a compact generator with extra power, these names will be two excellent options.
However, if you are supposed to choose the best, what would you choose? Here is our comparison of the two products and a quick review with their pros and cons to help you decide.
Image
The Winner (#1)
The Runner-up (#2)
The Winner (#1)
Image
The Runner-up (#2)
Image
Differences Between Westinghouse IPro2500 vs IGen2500
Westinghouse ipro2500 vs igen2500. When taking a quick look, two products have quite the same appearance. Then, we would like to compare them from three major perspectives: price, utilities, and durability.
Design
Both measure 19.8 x 11.4 x 17.9 inches and both weigh 48 lbs.
Both have handles for convenience when you want to move them.
Utilities
With a 25% load, these 2 portable generators also provide a maximum operating time of 10 hours on a full tank.
At 25% load, both will consume about 0.1 gallons of gas per hour.
Both operate at a quieter volume at 52 dBA, ideal for leisure activities as well as in surrounding areas.
In fact, these two models are almost the same in every detail. It is also very difficult to find differences in the utilities that these two models provide. However, when comparing iPro2500 and iGen2500, it is easy to see that the former is better for industrial use and the specific worksites while the latter is suitable for recreational use.
While both models provide 2500w of power, the iGen2500 model has the added parallel capability. That means you can use this feature to combine with a second iGen2500 device and generate a total output of 5000w. This number is enough to operate household appliances such as air conditioners, refrigerators or fireplaces, etc. It also features 2 DC outlets that are two 5V USB ports.
On the contrary, while it is not equipped with parallel capability, Westinghouse iPro2500 boasts the 120V outlets with GFCI standard which is designed to protect against serious electric shocks. This feature is very effective in ensuring safety.
Durability
Last but not least, the ability to use for a long time is also a vital key when they want to buy an Inverter Generator.
With Westinghouse iGen2500, this product is EPA, USFS, and CARB Compliant. These are basic standards for a generator.
Meanwhile, besides the compliances of Westinghouse iGen2500, iPro2500 is also OSHA Regulation Compliant, which means it is more durable and better resistant to shocks.
Quick Rundown Of Westinghouse iGen2500
No products found.
[i2pc show_title="false" title="Pros & Cons" show_button="false" pros_title="Pros" cons_title="Cons" ][i2pros]Compact design
It is parallel capable
Ultra-quiet operation
Higher wattage[/i2pros][i2cons]There is no GFCI outlet
The generator features a small gas tank capacity[/i2cons][/i2pc]

Quick Rundown Of Westinghouse iPro2500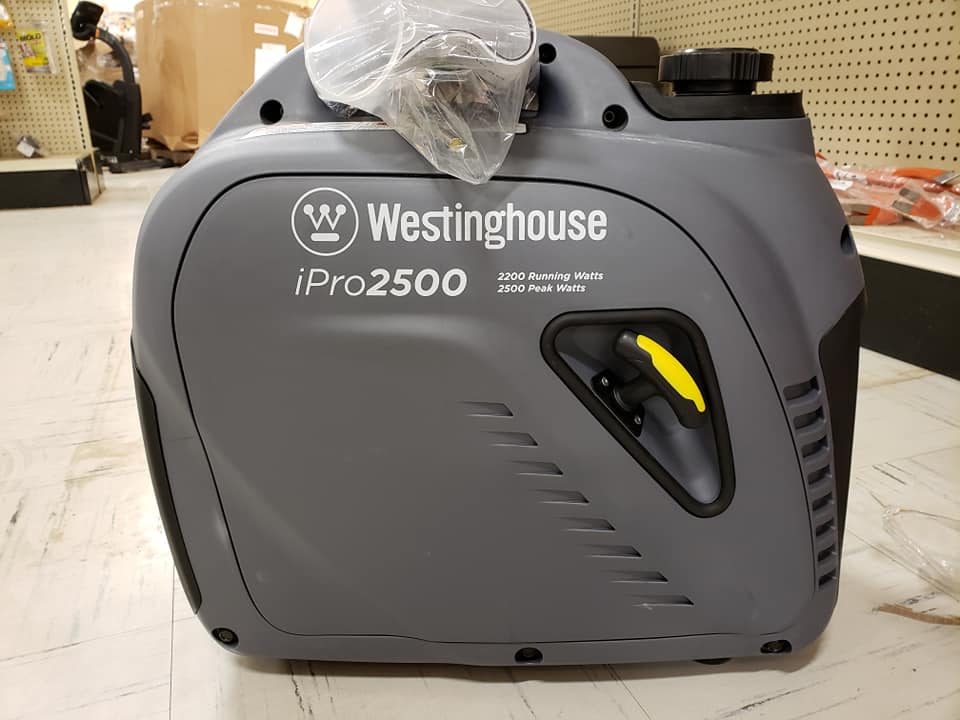 Westinghouse iPro2500
Great Choice for Job Sites or Home Use as an Emergency Backup in a Power Outage - Strong Enough to Run All Your Home Essentials
Product dimensions – 19.8" L x 11.4" W x 17.9" H | Engine displacement – 98 cc | Voltage – 120V | Start type – Recoil | Noise level – 52 dBA | Run time at 25% - 10 hrs. | Oil capacity – 11.8 oz.
2200 Rated Watts and 2500 Peak Watts at Less Than 3% THD - Weighs Only 48 Lbs. - Gas Powered - Two OSHA Compliant GFCI 120V 20 Amp Outlets, Two USB Outlets
Compliant with OSHA Regulations for Portable Generators - the iPro2500 is a Great Choice for On the Job Power
All Westinghouse Portable Generators are Functionally Tested in the Factory and May Contain Minimum Residual Oil and/or Fuel Odor; EPA , USFS, and CARB Compliant; Backed by 3-Year Limited Service, Labor, and Parts Coverage with Nationwide Customer Service and Support Network.
[i2pc show_title="false" title="Pros & Cons" show_button="false" pros_title="Pros" cons_title="Cons" ][i2pros]Affordable price
Lightweight
Featuring GFCI Outlets for safety
OSHA Regulation Compliant
High wattage[/i2pros][i2cons]No parallel capability
Small gas tank capacity[/i2cons][/i2pc]

Conclusion
This is the wrap up of our comparison post on Westinghouse ipro2500 vs igen2500. We believe that you are able to choose the best generator for yourself after reading this article.
Both products come with pros and cons but honestly, we do prefer the Westinghouse ipro2500 because of the price along with its safety features and standards. How about you? Have you decided yet? Hope you will make a smart choice.
---