Westinghouse iGen4200 and iPro4200: Which portable generator is the better option for you? Still, have no idea? Let's scroll down to find the answer!
Differences Between Westinghouse iGen4200 and iPro4200
Power Comparison
Both Igen4200 and iPro4200 run by gasoline to function. The Westinghouse iGen4200 has an engine of 212cc OHV 4-Stroke 4, reaching t200 watts and normally runs at 3,500 watts. Besides, we use the RV Ready TT-30R Outlet and 5-20R Standard Household Outlets with USB Ports to control the machine.
At the same time, The Westinghouse iPro4200 has a 212cc 4-stroke OHV Westinghouse engine. Like the Westinghouse iGen4200, this product runs at 3500 watts and reaches 4200 watts at maximum.
Moreover, both The Westinghouse iGen4200 and the iPro4200 provide up to 18 hours of running time with a fuel tank capacity of 2,6 gallons.
The Westinghouse iGen series produces clean and stable power with less than 3% THD, making it ideal for sensitive electronics like computers, televisions, or mobile phones. Similarly, the iPro4200 one is also no more than 3% in THD.
A great advantage of these two products is that they generate low noise while operating. More specifically, the operational noise volume of them is only 64dBA.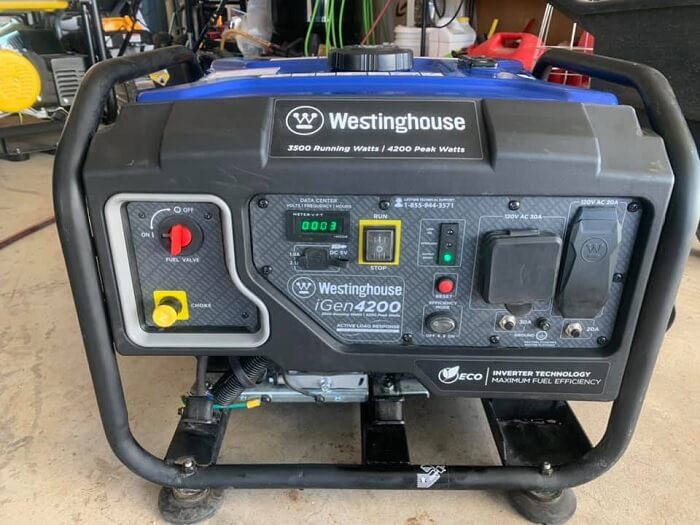 Design Comparison
While the Westinghouse iGen4200 weighs 80 pounds, the iPro4200 one is a bit heavier at 82 pounds. However, this difference causes hardly any significant difference between these two products. You could easily carry them easily around without great effort needed.
The overall size dimension of the Westinghouse iGen4200 is 24 x 20.5 x 20 inches. Whereas the Westinghouse iPro4200 is a bit smaller in size with a dimension of 24 x 19.5 x 19 in inches.
Both iGen4200 and iPro4200 have an open frame but have no wheel kits at all.
Features Comparison
No automatic control panel is available in the two products. Instead, there is an engine control switch in each machine for on and off mode. Both generators also have a VFT data center, which works as a maintenance reminder by telling you how to change the oil or clean the air filter. Besides, this center also gives you the exact amount of electricity and materials you've used.
Westinghouse igen4200 has 3 AC outlets, iPro4200 has 6 AC and 2 DC
Quick Rundown Of Westinghouse iGen4200
Westinghouse iGen4200 Inverter Generator
3502 Rated Watts and 4200 Peak Watts at Less Than 3% THD – Gas Powered – Unique Open Frame Inverter Generator Hybrid Technology for Durability and Maximum Fuel Efficiency
Features a 5–20R 120V Duplex Household Outlet, an RV-Ready TT-30R 30 Amp Outlet and Two USB Outlets – Great Choice for Travel Trailers or Home Use – Strong Enough to Run All Your Essentials
Powered by a 212cc Westinghouse 4-Stroke OHV Engine for Up to 18 Hour Run Time on a 2. 6 Gallon Gas Tank – Low Volume: As Quiet As 64 dBA – Features "Economy Mode" for Maximum Fuel Efficiency
Plug-and-Play: Comes With Oil, an Oil Funnel, a Tool Kit, and a User's Manual to Get You Started Right Out of the Box (Minimal Assembly Required); EPA and CARB Compliant
[i2pc show_title="false" title="Pros & Cons" show_button="false" pros_title="Pros" cons_title="Cons" ][i2pros]Running 18 hours on eco mode
Having LCD to indicate the status of the inverter
Having EPA and CARB compliant
Safe for sensitive electronic equipment
Cheaper than many other inverters the same size[/i2pros][i2cons]A bit heavyweight[/i2cons][/i2pc]

Quick Rundown Of Westinghouse iPro4200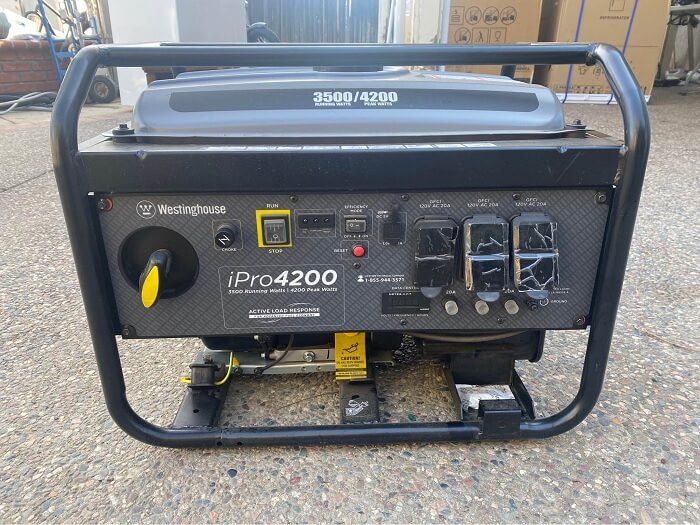 [i2pc show_title="false" title="Pros & Cons" show_button="false" pros_title="Pros" cons_title="Cons" ][i2pros]Having up to six 120V outlets
Running 18 hours on eco mode
Environmental friendly
Safe for sensitive electronic equipment
Making less noise
[/i2pros][i2cons]Using recoil start system[/i2cons][/i2pc]

Product Videos
Conclusion
To sum up, both Westinghouse iGen4200 and the Westinghouse iPro4200 are great inverter generators for your home. They both have many functions in common, like power, the main functions, the design. However, the Westinghouse iPro4200 is slightly compact in size and weight, making it much more convenient than the other.
If you are an environmentally friendly person, the Westinghouse iPro4200 seems to be a good choice for you. At the same time, the Westinghouse iGen4200 has a more reasonable price with great power. Now between "Westinghouse iGen4200 vs iPro4200", we hope that you could know which one is more suitable for you.