Westinghouse iGen4500 and Onan P4500i: Which portable generator is the better option for you? Still, have no idea? Let's scroll down to find the answer!
Differences Between Westinghouse iGen4500 and Onan P4500i
Power Comparison
The Westinghouse iGen4500 vs Onan P4500i are great competitors in the range of popular portable inverter generators. Both operate by gasoline 224CC (7.3hp).
The Westinghouse iGen4500 is manufactured with a Westinghouse brand engine built 4-stroke. Thanks to its power, iGen4500 can run with an impressive wattage from 3700W and up to 4500W. Moreover, we can use electric starter mode, remote starter mode, or the traditional pull-to-start mechanism. Its feature responds to user-friendly and super convenient for owners, no matter any circumstances.
Meanwhile, Onan P4500i does the best job with the OHV Cummins engine built 4-stroke. Like its competitor, Onan P4500i can run the significant wattage from 3700W to 4500W. The machine also provides the customer with various modes like electric, remote and traditional pull-to-star mode.
For the lifetime hours, both Westinghouse iGen4500 and Onan P4500i have 18 hours of running time. Furthermore, these two models have a fuel tank capacity of 3.4 gallons and the same fuel consumption of 0.19 GPH. Please note their THD<3%, which are suitable for sensitive electronics.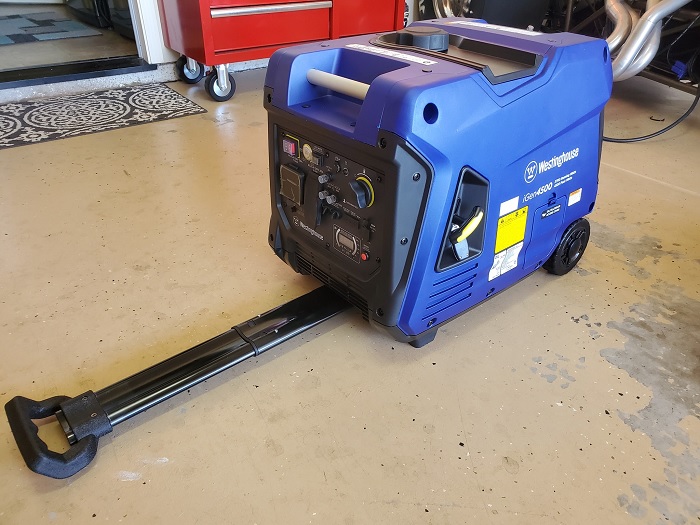 Design Comparison
Both have a great design suitable for either in or outdoor activities. These two generators design compact and lightweight features.
To be specific, both iGen4500 and Onan P4500i share the same weight of 98 lbs. But when it comes to dimensions, the iGen4500, with a size of 24,5 x 17,5 x 20,5 inches, is a little smaller than the P4500i, which is 24,5 x 18,3 x 20,5 inches.
Both have their firm telescopic handle and wheel kit to help the owner easy to move and place. Noticeably, their wheels are both 5.5 inches in diameter.
Features Comparison
As their simple operating system, two of these units are easy to use and control. The owner should fill the gas tank, turn on the fuel switch, and battery switch to the ON position. Then, choose the starting method among recoil, remote, and push-button start depending on our situation.
For the Westinghouse iGen4500, the control panel totally includes 3 AC outlets: an RV-Ready Tt-30R Outlet (30 Amps), 5–20R Duplex Household Outlet (120 volts), and two 5V USB Outlets that accept owner use as the backup charger for smartphone, camera, etc. With its highlight feature, iGen4500 is an excellent fit for Travel Trailers or Home use.
Also, Westinghouse iGen4500 provides a digital data center that allows the owner to quickly assist and control the generator monitor, such as all information about the status and activity: available voltage, lifetime, fuel level, etc.
When it comes to Onan P4500i, this generator has more than four outlets: two 5V USB ports, a duplex 120V (5-20R) AC outlet (20A), and one TT-30R (120V 30A). Furthermore, the Onan control panel shows essential information like an available gas tank, running time, and power load.
Quick Rundown Of Westinghouse iGen4500
Sale
Westinghouse iGen4500 Inverter Generator
4500 Peak Watts and 3700 Rated Watts at Less Than 3% THD; Telescoping Handle; Gas Powered; Remote Start With Included Key Fob, Electric and Recoil Start
Features a 5–20R 120V Duplex Household Outlet, an RV-Ready Tt-30R 30 Amp Outlet and Two USB Outlets – Great Choice for Travel Trailers or Home Use – Strong Enough to Run All Your Essentials
Led Data Center: Rotating Digital Display Shows Fuel Level, Power Output, Remaining Run Time, Voltage Output, and Lifetime Hours
Extremely Quiet, Extremely Fuel Efficient: as Low as 52 dBA Noise Output and Up to 18 Hour Run Time on a 3. 4 Gallon Gas Tank – Features "Economy Mode" for Maximum Fuel Efficiency
All Westinghouse Portable Generators are Functionally Tested in the Factory and May Contain Minimum Residual Oil and/or Fuel Odor; EPA and CARB Compliant; Backed By 3-Year Limited Service, Labor, and Parts Coverage and Nationwide Customer Service Network

---
Quick Rundown Of Onan P4500i

---
Product Videos
---
Conclusion
If you have read as far as here, we guess you now have the answer for yourself, right? From our perspective, the winner should be Westinghouse iGen4500. But the decision is yours, and remember that both Westinghouse iGen4500 vs Onan P4500i are what you can consider due to their impressive features in the range!