Westinghouse WGen9500DF and DuroMax XP13000EH: Which portable generator is the better option for you? Still, have no idea? Let's scroll down to find the answer!
Differences Between Westinghouse WGen9500DF and DuroMax XP13000EH
Below is a summary of the specifications:
Image
The Winner (#1)
The Runner-up (#2)
Fuel tank capacity
6,6 gallon / 20 lbs tank propane
8,3 gallon / 20 lbs tank propane
The Winner (#1)
Image
Fuel tank capacity
6,6 gallon / 20 lbs tank propane
The Runner-up (#2)
Image
Fuel tank capacity
8,3 gallon / 20 lbs tank propane
Power Comparison
Compared to other generators, Westinghouse WGen9500DF and DuroMax XP13000EH are easier to operate and friendly to the environment as they can run on gasoline and propane.
When using gasoline as fuel, the Westinghouse one has a running power of 9500W and a maximum power of 12500W. Meanwhile, its competitor has higher figures with 10,500W of running power and the capacity to peak at 13,000W.
When it comes to propane, the WGen9500DF can produce 8500W of running power and surge up to 11200W, whereas the DuroMax XP13000EH can produce 9975W running power and 12350W peak of power.
Moreover, with a 6,6-gallon gas tank, the WGen9500DF can operate continuously for up to 17,5 hours at 50% maximum load and consumes only 0.38GPH. A 20lbs propane tank will allow up to 11 hours and consume energy at 0.43GHP.
On the other hand, the XP13000EH has a bigger fuel tank, but it is not as efficient as its competitor. This generator has a fuel tank capacity of 8.3 gallons with only 8,5 hours of runtime and an energy consumption level of 0.98GHP. At 20lbs propane tank volume, it will operate for 3,5 hours and consumes energy at 1,34GPH.
Based on this standard, the noise level of the WGen9500DF (73dB) is slightly lower than the XP13000EH (74dB) while working. The DuroMax generator also has a lower THD supply of lower than 12%, which is not suitable for sensitive electronics in your house. Besides, the Westinghouse model offers a high THD of less than 23%, making them unsuitable for sensitive electronics.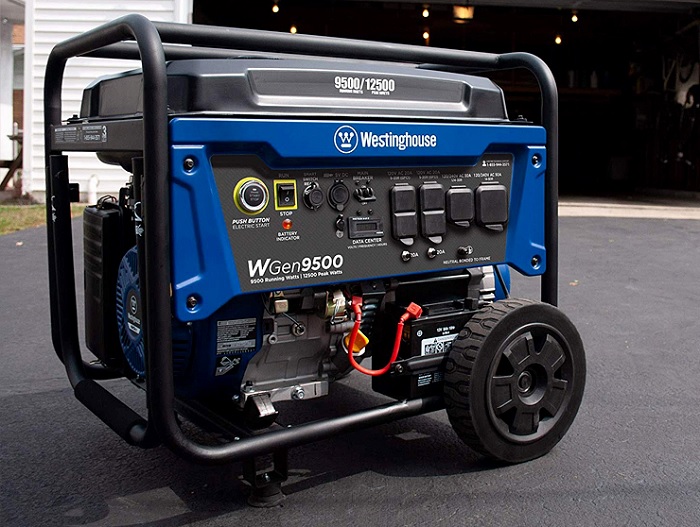 Design Comparison
The Westinghouse WGen 9500DF measures 220 pounds in weight and 27,2 x 26,5 x 26 inches in dimension. While the weight and size of its competitor-DuroMax XP13000EH, are different. To be more specific, the WGen9500DF is 14 pounds lighter than the XP13000EH ( 27,2 x 26,5 x 26 inches in size and 234lbs in weight.)
As a result, the Westinghouse model is more portable to maneuver and carry everywhere, which gives you a better experience with lighter weight.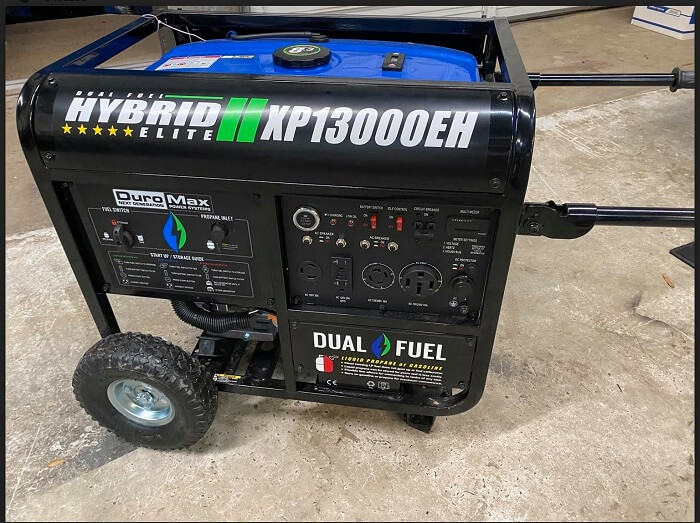 Features Comparison
Both models can be activated via one of the two methods: a traditional recoil pull starter and an electric starter. Plus, one highlight feature of XP13000EH is its remote control, which allows your generators to have more flexibility and adaptability.
The feature that stands out between both machines is the plugs. While the Westinghouse generator provides 6 AC outlets, the Duromax comes even better with 5AC plugs, 1DC plug, and a main 2-pole breaker to ensure the generator's safety.
Quick Rundown Of Westinghouse WGen9500DF
Westinghouse WGen9500DF Dual Fuel Portable Generator
9500 Running Watts and 12500 Peak Watts (Gasoline); 8500 Running Watts, 11200 Peak Watts (Propane); Remote Start With Included Key Fob, Electric and Recoil Start; Up to 12 Hours of Run Time on a 6. 6 Gallon Fuel Tank With Fuel Gauge
Features Two GFCI 120V 5–20R Standard Household Receptacle, One Transfer Switch Ready 120V L14-30R, and One RV Ready 120/240V 14–50R; All Outlets Have Rubber Covers for Added Safety
Powered by a Heavy Duty 457cc Westinghouse 4-Stroke OHV Engine Featuring a Long-Lasting Cast Iron Sleeve With Automatic Low Oil Shutdown and Digital Hour Meter. VFT display gives you real time updates with the voltage output, frequency, and lifetime hours
Plug-and-Play: Comes With a Remote Start Key Fob, 12V Battery Charger, Oil, an Oil Funnel, a Tool Kit, and a User's Manual to Get You Started Right Out of the Box (Minimal Assembly Required)
All Westinghouse Portable Generators are Functionally Tested in the Factory and May Contain Minimum Residual Oil and/or Fuel Odor; EPA and CARB Compliant; Backed by 3-Year Limited Service, Labor, and Parts Coverage with Nationwide Customer Service Network

---
Quick Rundown Of DuroMax XP13000EH
DuroMax XP13000EH Dual Fuel Portable Generator
POWERFUL DUROMAX ENGINE: The XP13000EH is powered by a 500cc OHV Duromax Engine.
DUAL FUEL TECHNOLOGY: The ability to run on Propane or Gasoline allows the Freedom and Flexibility of Fuel Choice.
PLENTY OF POWER: With 13,000 starting watts and 10,500 watts, this unit can handle heavy loads from lights, refrigerators, home conditioners and high amperage power tools.
MAXIMUM POWER: The power panel includes a wide selection of outlets for maximum compatibility in your applications including: 1 120/240V 50A heavy duty outlet, 1 120/240V 30A twist lock outlet, 1 120V 30A twist lock outlet, and 2 120V 20A household outlets.
POWERING EVERYONE ANYWHERE: Like all DuroMax generators, the XP13000EH is EPA and CARB approved for use in all 50 states.

---
Product Videos
---
Conclusion
Overall, the WGen9500DF and the DuroMax XP13000EH have numerous outstanding features, even though they come from different brands. From our perspective, the Westinghouse model seems more superior compared to its rival as it provides a better portable experience and longer runtime.
With the "Westinghouse WGen9500DF vs DuroMax XP13000EH" comparison, we hope to provide enough information that you are looking for and quickly choose the most suitable generator. Thanks for reading, and see you in our next post!