Honda EU2200i and Yamaha EF2200iS: Which portable generator is the better option for you? Still, have no idea? Let's scroll down to find the answer!
Differences Between Honda EU2200i and Yamaha EF2200iS
Image
The Winner (#1)
The Runner-up (#2)
Size
21.9 x 11.8 x 18.5 inches
The Winner (#1)
Image
The Runner-up (#2)
Image
Size
21.9 x 11.8 x 18.5 inches
Below is a summary of the specifications:
Power Comparison
Both Honda EU2200i and Yamaha EF2200iS run on fuel and share the same capacity of 1800 watts and a max input of 2200 watts.
Although they both use OHV 4-stroke motor, Honda EU2200i offers a stronger engine thanks to its 121 cc Honda GXR120 engine while Yamaha EF2200iS MZ80 motor is only 79 cc.
Nevertheless, Yamaha has done a better job in providing a greater tank. Yamaha EF2200iS's fuel tank is 1.24 gallons, which is 0.29 gallons bigger than Honda EU2200i's. Hence, this also means that Yamaha EF2200iS can run much longer than Honda EU2200i.
When it comes to noise level, Honda once again gains its position. The EU2200i operates at around 48dBA, which makes it ideal for camping, and all activities that require a quiet operation. So quiet that your neighbors won't notice the generator's existence.
Meanwhile, the EF2200iS is noisier than its rival. When operating, it can create sound up to 57 dBA, which is much higher than the EU2200i.
Both generators also share an equivalent THD, which is <3% of Honda and <2.5% of Yamaha. Thus, they are suitable and safe for all sensitive electronic appliances in your house.
Other special features in Honda EU2200i are its reliable power and exclusive Eco-Throttle System that allow various operations for camping, using at work and home, overnight activities without wasting too much fuel.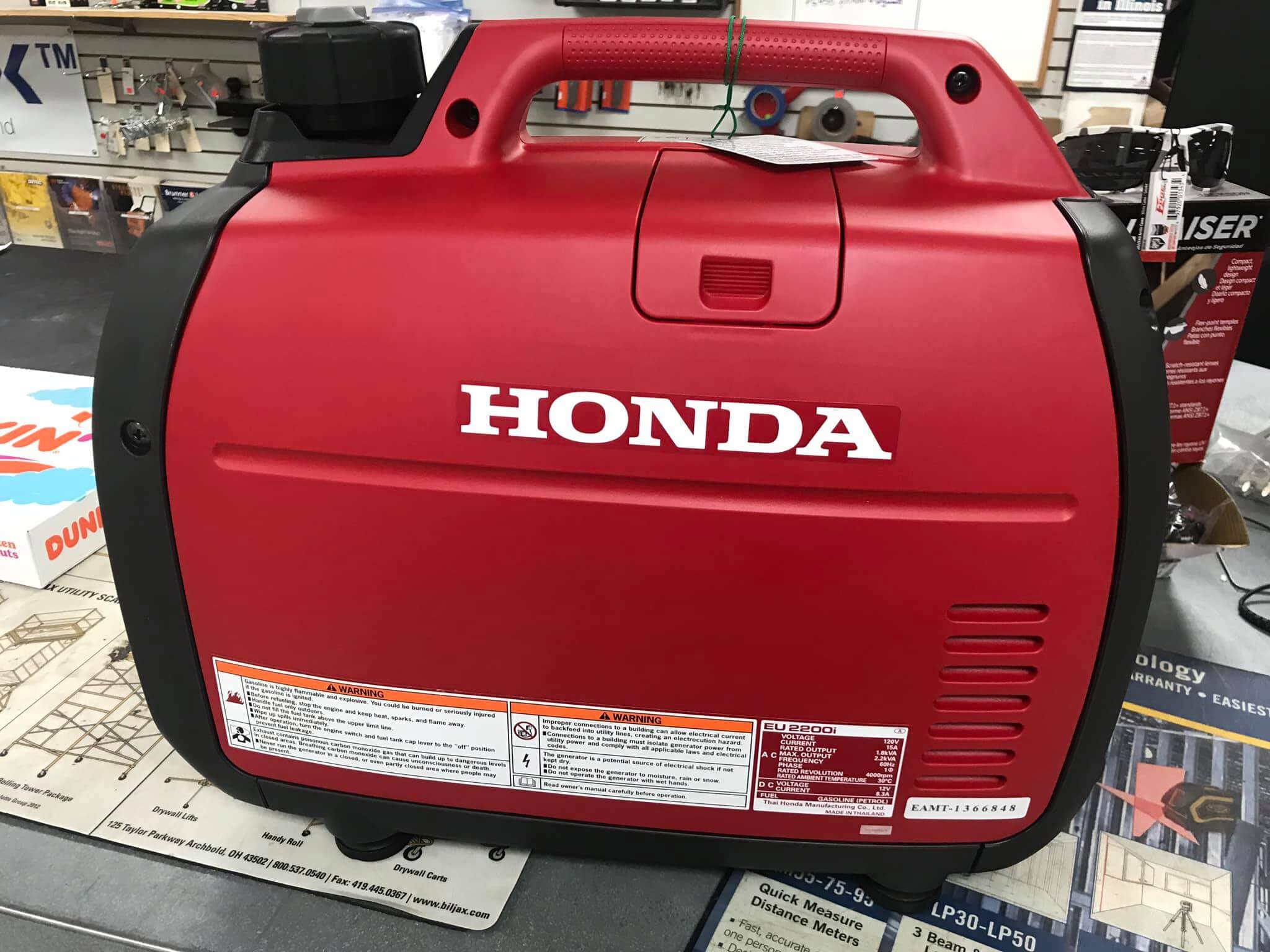 Design Comparison
In terms of dimensions, the Honda EU2200i seems to be more portable than the Yamaha EF2200iS. Weighing 40 pounds with 16 x 20 x 11 inches in size, Honda EU2200i beats the Yamaha EF2200iS with 55.2 pounds and 21.9 x 11.8 x 18.5 inches in size.
However, there is no wheel in both products, so it will take you some work to move and carry them. But don't worry, as these generators all have handles for better lifting.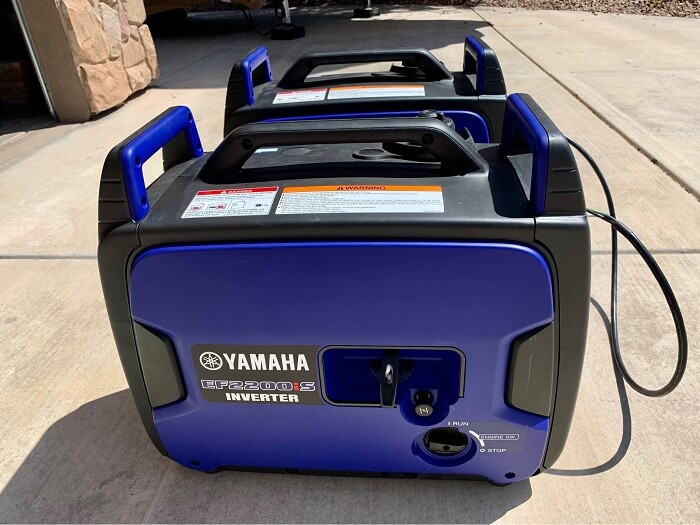 Features Comparison
It is simple and easy to start the Honda EU2200i and Yamaha EF2200iS up with a smart dial knob.
Offering 3 AC and 1 DC socket, Yamaha EF2200iS allows more appliances to connect than Honda EU2200i with only 2 AC sockets.
Following this, both generators have a control panel indicating important parameters. They all offer usual breakers and LED indicator lights for overload, run, and low oil. A plus point for Yamaha EF2200iS is its multi-function LED indicator with a night running light, which ensures clear vision even in the dark.
Quick Rundown Of Honda EU2200i
Sale
Honda EU2200i Generator
This popular model can operate a wide variety of appliances, making it perfect for portable use at home, camping, on the job site, or much more. Reliable Power is now at your fingertips with Honda's Inverted Generators.
So quiet, your neighbors will thank you. The EU2200i operates at 48 to 57 dBA, which is less noise than a normal conversation. This makes it ideal for camping, supplemental RV power and any other activity that requires quiet operation.
Add a second EU2200i for additional power. Two identical models can be paralleled with an optional cable or cord for up to 4400 watts of power, or time-consuming applications.
Thanks to our exclusive Eco-Throttle System, the EU2200i offers great fuel efficiency. Runs 4.0 to 9.6 hours on a single tank, depending on the load. This makes it the ideal choice for overnight power, or long-time applications.
Honda's inverter technology means stable, clean power in a smaller, lighter package. The precision of Honda's inverter technology ensures our inverter generators produce power that is as reliable as the power you get from your outlets at home.
[i2pc show_title="false" title="Pros & Cons" show_button="false" pros_title="Pros" cons_title="Cons" ][i2pros]More portable
Less noisy
Better fuel efficiency
Inverter technology[/i2pros][i2cons]Less long-lasting
Fewer sockets.[/i2cons][/i2pc]

---
Quick Rundown Of Yamaha EF2200iS
Yamaha EF2200iS Generator
Powerful Yamaha 79cc Engine - Provides high power output.
Yamaha Quiet Technology - Outfitted with Yamaha sophisticated muffler for quiet operation.
Standard RV Outlet - No more searching for the right adapter. DC Outlet - Flexibility to charge and use devices.
Illuminated Multi-Function LED Display - See generator status at a glance both day and night.
Smart Dial Knob - Simple and easy start-up. Smart Throttle - Automatic load sensing adjusts power to device needs.
[i2pc show_title="false" title="Pros & Cons" show_button="false" pros_title="Pros" cons_title="Cons" ][i2pros]Better fuel tank
Multi-function LED indicator
More sockets
[/i2pros][i2cons]Noisier
Less portable[/i2cons][/i2pc]

---
Product Videos
---
Conclusion
Overall, Honda Eu2200i vs Yamaha EF2200iS has its strengths and weaknesses. If you are a wise consumer, you may figure out that Honda EU2200i outweighs Yamaha EF2200iS as it provides more modern technology and better performance. We can confirm that this gadget will not let you down.