Honda EU2200i and Yamaha EF2400iS: Which portable generator is the better option for you? Still, have no idea? Let's scroll down to find the answer!
Differences Between Honda EU2200i and Yamaha EF2400iS
Below is a summary of the specifications:
Image
The Winner (#1)
The Runner-up (#2)
The Winner (#1)
Image
The Runner-up (#2)
Image
Power Comparison
Although both Honda EU2200i and Yamaha EF2400iS use petrol to function, there are many differences in power systems between these two.
The first difference is the engine. If the Honda generator uses a 121 CC engine with a 4-stroke, the Yamaha unit has a bigger engine of 171 CC. This feature leads to a higher working capacity in the EF2400iS (2000 W), and it can reach up to a maximum of 2400 W. Meanwhile, EU2200iS provides only 1800W of working capacity and up to 2200 W as maximum.
To make these generators work, you have to pull out the cord several times. When comparing these two machines, we are inclined to the EF2400iS as it possesses a larger petrol tank (1,6 gallon) and can work continuously for 11 hours. On the other hand, EU2200i has a double smaller tank (0,95 gallons), allowing it to work only 8,1 hours.
These two generators also received a lot of compliments in terms of energy efficiency. More specifically, the energy consumption of the Honda one is 0,12 GPH, and Yamaha EF2400iS with 0,15 GPH. We would say that they are environmentally friendly representatives of inverters in the electrical equipment market.
Due to the low THD indicators (less than 3% for Honda items and 2,5 % for Yamaha machines), both generators are suitable for sensitive appliances such as microwaves, ovens, big hair dryers, and microwaves.
However, if we had to choose one of them, we would pick the Honda EU2200i as it is super quiet while working with a noise level of 48dB. In contrast, its rival from Yamaha seems to provoke the air with a louder sound (53dB) after turning it on.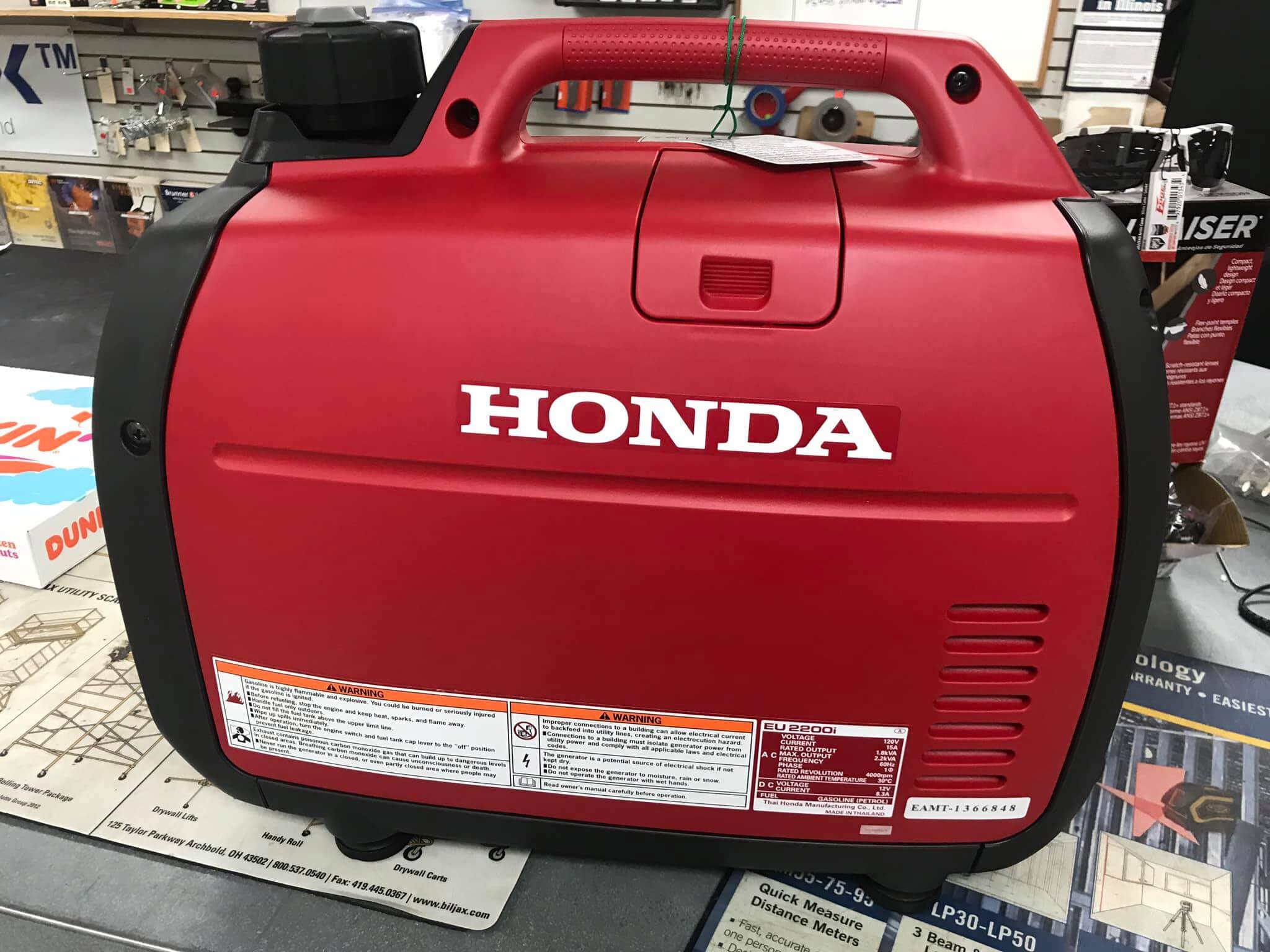 Design Comparison
Users can easily differentiate the two machines by their outlooks as they are dissimilar from each other. To be more specific, each item has its typical features from the brand, such as Honda EU2200i has beautiful red while EF2400iS stunning in blue with the word "Yamaha" on the body.
When it comes to size and weight, the Yamaha generator is double heavier and bulkier (75 pounds, 21 x 17 x 18 inches) than the Honda one (40 pounds, 16 x 20 x 11 inches).
Due to the lightweight, Honda model EU2200i offers users a stable handle on the top of the machine. On the contrary, the Yamaha one has two handles. If you want to carry these machines from place to place, you must lift their handles as there are no portable wheels.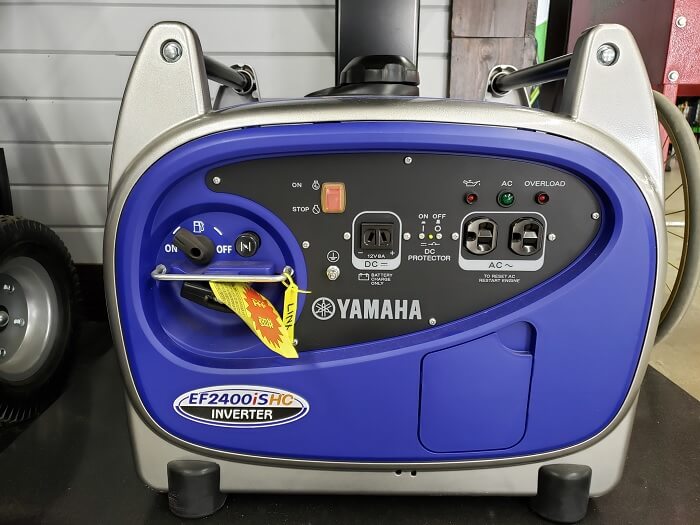 Features Comparison
There is no difference in the turning-on regime between the two machines. Both have the on-off switches behind, choke buttons, and recoils to boost the system.
From our perspective, customers might favor Yamaha EF2400iS more as it possesses a DC socket and two AC sockets. And the Honda machine is only equipped with two AC sockets.
Surprisingly, you can control and manage both Honda EU2200i and Yamaha EF2400iS by microcomputer appliances via Bluetooth. Their oil watch warning system will give a timely signal when the tank is getting low oil. Such an amazing function!
Quick Rundown Of Honda EU2200i
Honda EU2200i Generator
This popular model can operate a wide variety of appliances, making it perfect for portable use at home, camping, on the job site, or much more. Reliable Power is now at your fingertips with Honda's Inverted Generators.
So quiet, your neighbors will thank you. The EU2200i operates at 48 to 57 dBA, which is less noise than a normal conversation. This makes it ideal for camping, supplemental RV power and any other activity that requires quiet operation.
Add a second EU2200i for additional power. Two identical models can be paralleled with an optional cable or cord for up to 4400 watts of power, or time-consuming applications.
Thanks to our exclusive Eco-Throttle System, the EU2200i offers great fuel efficiency. Runs 4.0 to 9.6 hours on a single tank, depending on the load. This makes it the ideal choice for overnight power, or long-time applications.
Honda's inverter technology means stable, clean power in a smaller, lighter package. The precision of Honda's inverter technology ensures our inverter generators produce power that is as reliable as the power you get from your outlets at home.

---
Quick Rundown Of Yamaha EF2400iS
Yamaha EF2400iS Generator
Increased motor starting capability and improved air conditioner starting
Provides power that is as clean, or cleaner than commercial power and adjusts the engine speed to precisely match the load
Prevents engine damage caused by low oil, avoiding costly repairs and minimizing down time, adding customer confidence and peace of mind
Improved efficiency, increased reliability, quieter operation and easy portability; Cast iron cylinder liner— Provides long engine life and consistent performance during continuous use
Will run most 13,500 btu RV air conditioners, microwave/convection ovens, or even the biggest hair blow dryer

---
Product Videos
---
Conclusion
Before deciding which one to buy, think about the wattage requirement you need for a generator! Also, if you don't want this machine to bother your neighbors with its noise, pick up the Honda brand. Finally, we hope our review article about "Honda EU2200i vs Yamaha EF2400iS" helps you. Have a great time shopping!