Even when you have shrunken your options down to Yamaha EF3000iSE Vs Honda EU3000iS, it's still a tough call to make.
There is no doubt that Yamaha and Honda are both great manufacturers in making the best generators. For that reason, a lot of people find it hard to determine which of these 3000W generators is better – Yamaha EF3000iSE Vs Honda EU3000iS.
In today's article, we'll provide you with an in-depth comparison of the two, thus helping you choose easier. Stay tuned!
Differences Between Yamaha EF3000ISE Vs Honda EU3000IS
Image
The Runner-up (#2)
The Runner-up (#2)
Image
We'll discuss the differences in terms of the cost, key features, and ease of maintenance to see how they match up. After all, this is a real battle of the titans in the power-related field.
Key Features
First of all, you are assured that both of these inverter generators provide clean energy with a distortion of less than 2.5%, which means you can use them to power your phone, laptop, or other sensitive electrical devices.
In terms of weight, Yamaha EF3000iSE is quite bulky, weighing around 148 lbs. Yet, it comes with 4 built-in wheels and two telescopic handles on each side for hassle-free transporting.
As for its opponent, Honda EU3000iS weighs a little less at 130 lbs, but the fact that you'll have to make an additional purchase for the wheels is a major downside to this unit. Of course, you can lift it up by hand, but it requires two strong men to do so.
There's nothing much to say in regards to the noise level. Both machines are extremely quiet, so you won't have to worry about waking up your neighbors when there's a power cut early in the morning.
Yamaha EF3000iSE and Honda EU3000iS have so much in common that a lot of people are wondering, "Do these brands have the same engineering or something?!"
Still, we have to give credit to Honda EU3000iS for its parallel connection. This enables you to double up the power if you happen to have another Honda EU3000iS.
Quick Rundown Of Yamaha EF3000iSE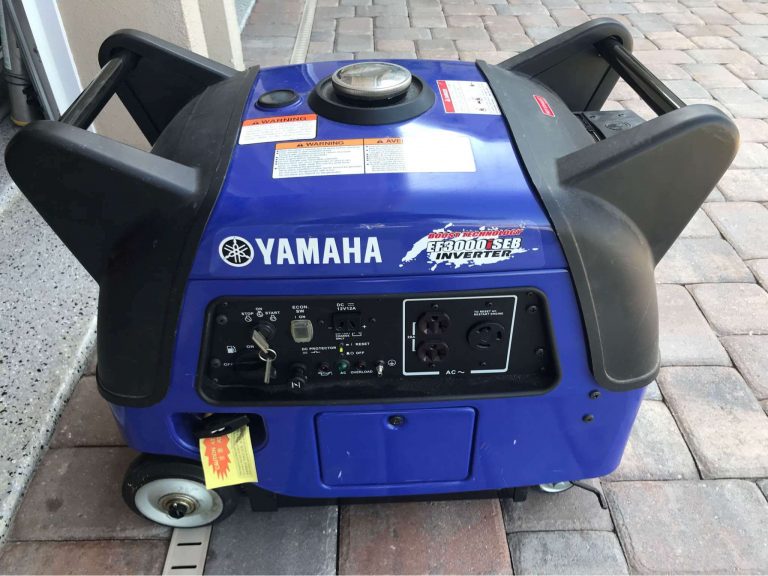 Yamaha EF3000iSEB
The Boost Control Unit (BCU) senses when extra power is needed and boosts output for up to 10 seconds
Sound absorbing material, used in key locations, does not resonate sound. Newly designed muffler and molded fan produce unbeatable noise reduction
Greater fuel efficiency and noise reduction by automatically adjusting engine speed to match the load
Continuous operation for up to 19 hours without refueling
Recharge 12 volt batteries for RV, auto, or marine, etcetera
Pros:
Hassle-free electric starting mechanism
Inverter system for producing clean power
4 integrated wheels and 2 ergonomic handles for effortless transportation
Long-running time up to 20.5 hours at a quarter load (economy mode one)
Auto shut off when oil is running low
Cons:
Quite heavy
The process of battery installing is quite dangerous as it involves putting acid in the battery

Quick Rundown Of Honda EU3000iS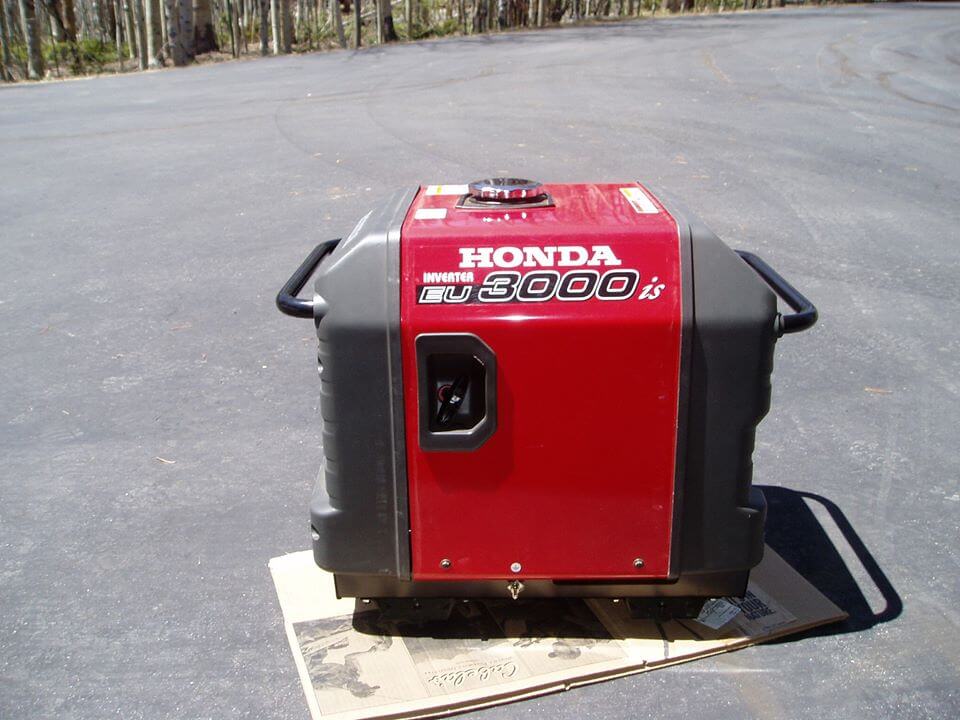 No products found.
Pros:
Extremely quiet at 51 dBA
Built-in parallel connection for dual power
Eco throttle adjusts the gas consumption to match with the speed for fuel efficiency
Easy one-pull recoil start
Capable of running a wide variety of electronics
Cons:
Heavy but doesn't come with built-in wheels
If you use this generator to power your laptop and there occurs a power fluctuated, your device will either shut down or interrupt with the running programs

Conclusion
That was tough, but we suppose you must've had the winner for the battle between Yamaha EF3000iSE Vs Honda Eu3000iS by now. Since both machines share a lot of things in common, price is perhaps the biggest factor customers consider before making the final decision.