Dewalt DW715 Vs DW716 can both satisfy your needs but if you have to choose one, which one is best for you? Here is our comparison of the two products and a quick review of each one's pros and cons.
Image
The Runner-up (#2)
The Runner-up (#2)
Image
Differences Between Dewalt DW715 Vs DW716
Price – Point to the DEWALT DW715
The first aspect we consider whenever we buy something is its price. If money doesn't bother you then you can skip this part. In this case, we recommend that you buy DW715.
Why? As mentioned before, these two saws have similarities in many points. DW715 is suitable for almost every basic objective of you with excellent functions. DW716 is like a DW715 but with a few upgrades and it should only be used by experts.
Power
Despite having the same motor, DW715 has a better Round-Per-Minute rate than that of DW716. The blade of DW715 can spin up to 4,000 rounds in a minute while the maximum number of rounds DW716 can create in a minute are 3,800.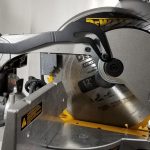 Flexibility
One significant difference is that DW716 is a double-bevel compound miter saw, while DW715 is just a single-bevel one. It means that, with DW716, you can cut in two directions at a time. Whereas, users of DW715 have to change the position of the wood if they want to adjust the cut direction.
A single-bevel saw is easy to use for people who are not experts in operating construction tools. What's more, DW715 is an ideal saw for anyone who makes simple woodwork.
DW716, a double-bevel compound miter saw, is a common tool of professional. You don't have to move the wood piece while cutting because the saw can cut in two directions. Hence, using DW716 is really time-saving. In addition, not altering the wood position won't cause any error, so the cut can be more precise.
Design
Because of having more extra parts than DW715, DW716 is quite heavier and larger. However, the difference is not the main point. Both of them are still easily carried around by an adult.
Quick Review of Dewalt DW175
No products found.
This saw will provide you with precise cuts. Furthermore, this extraordinary tool isn't dangerous for your health because it has a cover for its blade and its parts move slowly. Now, let's take a look at its pros and cons: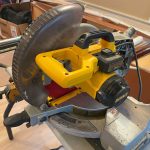 Pros:
The most prominent advantage of DW175 is the 12'' blade spinning up to 4000 rounds per minute.
Cutting a big piece of wood is simple with a large fence.
The handle is designed with care for better usage
With one try, you can smoothly cut a large piece of wood or metal.
Cons:
The fence sometimes may be positioned wrongly. It's the mistake of the manufacturer. You should ask for another better version.
Although DW715 has a dust collector, this part doesn't function well.

Quick Review of Dewalt DW716
Dewalt DW716
15 amp, 3,800 rpm motor delivers extended power and durability for the 12-inch miter saw blade
Adjustable stainless steel miter detent plate with 11 positive stops improves productivity and ensures cutting accuracy for the mitre saw
Precise miter system and machined-base fence support optimize cutting accuracy for DEWALT miter saw
Tall sliding fences support crown molding up to 6-5/8-inch nested and base molding up to 6-1/2-inch vertically against the fence while easily sliding out of the way for bevel cuts
Innovative gearbox and belt-drive design increases vertical cutting capacity
With double-bevel, DW716 can be useful for both professionals and amateurs. This is the only outstanding point of DW716 when being in comparison with DW715. Pros and cons of DW716 are worth checking:
Pros:
DW716 has a strong motor
It can deliver exact cuts
You can use DW716 without concerning about its safety
It is easy to handle
Cons:
Because of the double-bevel, it is quite expensive
Non-expert may find it hard to operate this saw
There is no guide for cutting.

---
Product Videos
Conclusion.
To be honest, it's really hard to affirm which one is better between these two saws. The reason is that they were all released in the same year and with similarities in specifications and features. Both DW715 and DW716 are powerful saws with an ideal design.
However, if I must choose one of them, I will choose DW715 because it can meet all of my needs with the uncomplicated operation. Which one would you choose? Let me know. Keep following our website to support us.