Generac GP2200i and GP2500i: Which portable generator is the better option for you? Still, have no idea? Let's scroll down to find the answer!
Differences Between Generac GP2200i and Generac GP2500i
Below is a summary of the specifications:
Image
The Winner (#1)
The Runner-up (#2)
Size
9.84 x 4.33 x 8.27 inches
19,7 x 11,4 x 17,9 inches
The Winner (#1)
Image
Size
9.84 x 4.33 x 8.27 inches
The Runner-up (#2)
Image
Size
19,7 x 11,4 x 17,9 inches
Power Comparison
Both the GP2200i and the GP2500i run on gasoline. Also, the GP2200i comes with an 80cc Generac OHV 4-stroke engine with a starting power of 1700W and the maximum power of 2200W.
But GP2200i is not the quietest generator we've ever encountered. More specifically, the product generates about 60dB of noise at lower loads, and even at peak loads, it stays below 70dB. You also need to use the traditional pull-up method to get the engine started.
Furthermore, the Generac GP2200i inverter generator has a long-running time, one of its best features. The operating time is up to 10.75 continuous hours, which is quite impressive for a generator.
How about the GP2500i? It comes with a 98cc OHV 4-stroke engine. Starting power is 2200W and a maximum power of 2500W. The machine can run for up to 8 hours straight, which is shorter than its rival. On the other hand, the product can automatically adjust engine speeds to save fuel and reduce noise emissions in economy mode.
In terms of fuel tank capacity, the GP2200i has a bigger capacity (1,2 Gallons) than the other of 1 Gallon.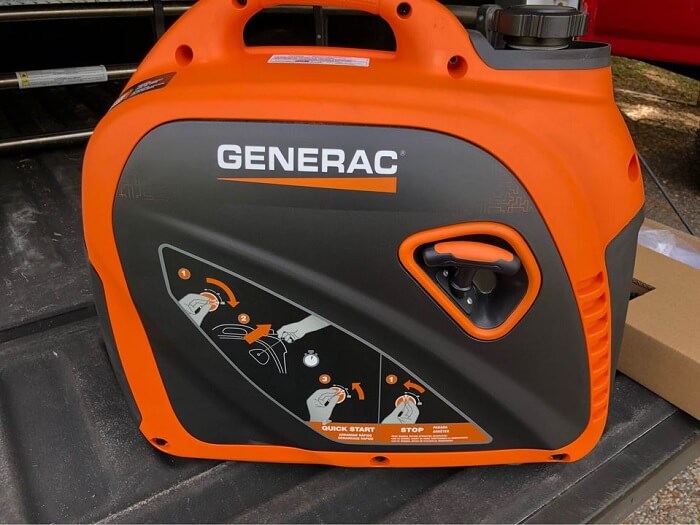 Design Comparison
The GP2200i weighs 46.6 pounds with a 19.7 x 11.4 x 17.9 inches dimension, which is slightly more lightweight but bulkier than the GP2500i, which weighs 56 pounds and measures 9.84 x 4.33 x 8.27 inches.
Features Comparison
The GP2200i and GP2500i have the same THD of lower than 3%, making them ideal for sensitive electronics. Both have two AC sockets, but the GP2500i offers three more DC sockets.
In addition, the GP2200i and GP2500i inverter generators will run in parallel, allowing you to connect them to another similar unit with a paralleling kit to get twice the power output. You will be able to run more machines or larger appliances, such as an air conditioner, as a result.
They are all good choices if you don't have high expectations for a portable generator. Besides, the two generators are great for overnight camping trips or as a backup source of power for small appliances.
Quick Rundown Of Generac GP2200i
Generac GP2200i Generator
Quiet, Compact, Easy to use. AC rated output running Watts: 1700, AC maximum output starting Watts: 2200. Rated 120 VAC Amperage-14.1
Truepower technology provides clean, stable power ideal for sensitive electronics, tools and appliances while the 1.2 gallon fuel tank allows 10.75 hours of run time at 25% load
Built-in handle makes it easy to transport and the integrated OFF/RUN/CHOKE knob simplifies startup procedures
Economy mode provides excellent fuel economy and noise reduction while the LED status lights alerts you on low-oil, overload and power
Parallel ready allows you to connect 2 inverters together for twice the power (parallel kit model 7118 sold separately)
[i2pc show_title="false" title="Pros & Cons" show_button="false" pros_title="Pros" cons_title="Cons" ][i2pros]Lightweight
Quiet
Up to 10.5 hours of running time
Reasonable Cost[/i2pros][i2cons]Unable to use the Eco mode at higher loads.[/i2cons][/i2pc]

---
Quick Rundown Of Generac GP2500i
Generac GP2500i Generator
Portable Power Solution: The GP2500i inverter generator is your go-to portable power source for outdoor adventures, from camping trips to tailgating events, ensuring stable power without disturbing your surroundings
High Quality and Consistent Power: With TruePower Technology, this generator delivers clean power that's safe for sensitive electronics, tools, and appliances, so you can stay connected even in the great outdoors
Compact and Lightweight: Designed for easy transportation this Generac generator, complete with a built-in handle, is lightweight and compact built, making it a breeze to move and set up wherever you need it
Fuel-Efficient and Quiet: Activate Economy Mode to automatically adjust engine speeds, reducing fuel consumption and noise emissions, allowing for quiet operation during extended use during your open-air activities
Simple Startup: The integrated Off/Run/Choke Knob simplifies the startup process, allowing you to get your generator up and running quickly and hassle-free
[i2pc show_title="false" title="Pros & Cons" show_button="false" pros_title="Pros" cons_title="Cons" ][i2pros]Works well in all types of weather
Low noise levels.
Ready for a parallel operation
Include a 3-year warranty.
The EPA, CSA, and CARB have all given their approval.
[/i2pros][i2cons]Changing the oil is a difficult task.
There is no data center in the area.
No fuel gauge.
No electric start.[/i2cons][/i2pc]

---
Product Videos
---
Conclusion
To conclude, the winner between "Generac GP2200i vs GP2500i" will be GP2500i. In our perspective, GP2500i offers more convenient and modern features such as low noise level, weather resistance, three years warranty, and three DC sockets.
Despite the fact that the Generac GP2200i and GP2500i aren't the quietest generators on the market and can't match the build quality as most expensive Honda or Yamaha inverter generators do, they're still a good inverter generator for occasional use.