Generac GP2200i and Westinghouse iGen2200: Which portable generator is the better option for you? Still, have no idea? Let's scroll down to find the answer!
Differences Between Generac GP2200i and Westinghouse iGen2200
Below is a summary of the specifications:
Image
The Winner (#1)
The Runner-up (#2)
Size
19,7 x 11,4 x 17,9 inches
19,8 x 11,4 x 17,9 inches
The Winner (#1)
Image
Size
19,7 x 11,4 x 17,9 inches
The Runner-up (#2)
Image
Size
19,8 x 11,4 x 17,9 inches
Power Comparison
To make these products work, you will have to fill their fuel tanks with petrol. Besides this, let's look at how they are different from each other in some aspects.
The first dissimilarity is the iGen2200 uses a 79 CC OHV engine with a 4-stroke, while the unit Generac GP2200i possesses a little bigger engine of 80 CC. Interestingly, although having a smaller engine, the Westinghouse generator works with a higher capacity of 1800 W than the Generac product (1700 W). But don't worry! Both items provide 2200W of maximum working capacity.
To turn on the products, pull out the cord several times! Either GP2200i and iGen2200 generators equipped a petrol tank of 1,2 gallons. However, the Generac generator consumes more energy (0,11 GPH) than its opponent (0,1 GPH). This feature also leads to the fact that Generac GP2200i can work continuously for 10,75 hours less than the Westinghouse iGen2200, which can work for up to 12 hours.
You can utilize these generators for sensitives appliances within your house (ovens, big hairdryers, microwaves) or outdoor activities, as they own low THD indicators of less than 3%.
When it comes to the noise, we don't think that you will like the Generac GP2200i as it generates noise levels around 60-70 dB (depending on the load). Thus, it is better to choose a Westinghouse iGen2200 that works all the time (52dB) quietly.
Design Comparison
You can easily vary the two machines by their different looks, as Generac GP2200i stands out with its typical orange color and the Westinghouse iGen2200 looks beautiful in blue and black. Both engraved their brand names on the bodies.
Although having differences in sizes of 19.8 x 11.4 x 17.9 inches for iGen2200 and 19 x 11 x 17 inches for Generac GP2200i. They weigh the same 46 pounds.
If there was no "brand name" on the body of two machines, users might easily get confused as both products provide a handle on their top. More specifically, you have to utilize these handles to lift the machines or move them around. From our point of view, two generators would be more portable if they are equipped with wheels.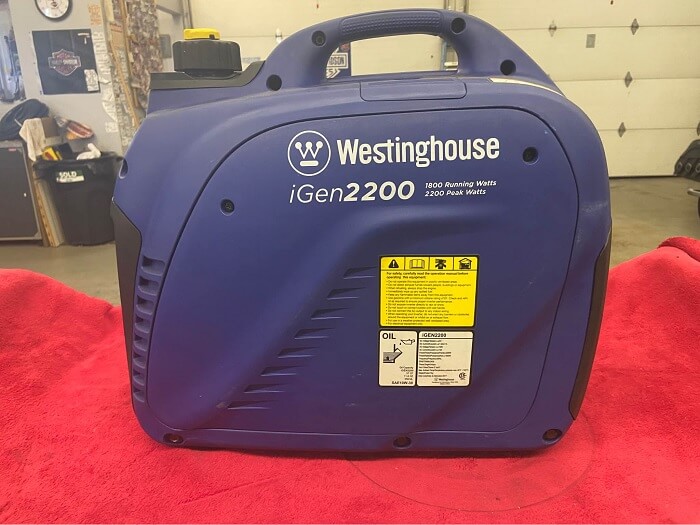 Features Comparison
Both machines have the same way of starting their working regime. Specifically, they are equipped with the on-off switches behind, choke buttons, and recoils to boost the system.
When it comes to the socket, the two generators adapt with two AC sockets. Therefore, check the item carefully before purchasing if you need the one with a DC socket.
It is a bit inconvenient that two machines require manual management. However, the generator status light for low-oil shutdown and overload protection will help the items work properly.
Quick Rundown Of Generac GP2200i
Generac GP2200i Inverter Generator
Quiet, Compact, Easy to use. AC rated output running Watts: 1700, AC maximum output starting Watts: 2200. Rated 120 VAC Amperage-14.1
Truepower technology provides clean, stable power ideal for sensitive electronics, tools and appliances while the 1.2 gallon fuel tank allows 10.75 hours of run time at 25% load
Built-in handle makes it easy to transport and the integrated OFF/RUN/CHOKE knob simplifies startup procedures
Economy mode provides excellent fuel economy and noise reduction while the LED status lights alerts you on low-oil, overload and power
Parallel ready allows you to connect 2 inverters together for twice the power (parallel kit model 7118 sold separately)
[i2pc show_title="false" title="Pros & Cons" show_button="false" pros_title="Pros" cons_title="Cons" ][i2pros]A good match for many households and appliances
Stable power
Eco-friendly and fuel-efficiency
Small and portable
Durable design
Can work parallel with other Generac GP2200i [/i2pros][i2cons]Short running times
Require petrol [/i2cons][/i2pc]

---
Quick Rundown Of Westinghouse iGen2200
Westinghouse iGen2200 Inverter Generator
1800 Rated Watts and 2200 Peak Watts at Less Than 3% THD - Weighs Only 47.4 Lbs. - Gas Powered - Two 120V 20 Amp Outlets; Two USB Outlets.Alternator Type : Permanent magnet. Maximum Ambient Temperature: 104°F (40°C).
Great Choice for Home Use as an Emergency Backup in a Power Outage - Strong Enough to Run All Your Home Essentials
Extremely Quiet, Extremely Fuel Efficient: as Low as 52 dBA Noise Output and 12 Hour Run Time on a 1. 2 Gallon Gas Tank - Features "Economy Mode" for Maximum Fuel Efficiency
Parallel Capable - Combine Your iGen2200 with the Westinghouse WH2200iXLT; iGen1200; iGen2200; and iGen2500 to Increase Available Wattage and Amperage (Requires Westinghouse Parallel Cord)
All Westinghouse Portable Generators are Functionally Tested in the Factory and May Contain Minimum Residual Oil and/or Fuel Odor; EPA and CARB Compliant; Backed By 3-Year Limited Service; Labor; and Parts Coverage and Nationwide Customer Service Network
[i2pc show_title="false" title="Pros & Cons" show_button="false" pros_title="Pros" cons_title="Cons" ][i2pros]Portable
Work quietly
Energy efficient
Two USB outlets
Suitable for outdoor works [/i2pros][i2cons]No proactive customer service [/i2cons][/i2pc]

---
Product Videos
---
Conclusion
Honestly, we don't think there is much difference between these two generators, "Generac GP2200i vs Westinghouse iGen2200". If the noise matters to you, pick up the iGen2200 because it works much quieter than the Generac manufacturer's rival. Furthermore, check whether their store is near your place to get the best customer service before purchase. We hope this article is helpful to you, and have a great time shopping!