Honda EU3000iS Vs Yamaha EF3000iSEB are two units that are on the list of the best generators you can find on the market. So, are they really worth the hype, and which unit is better?
In today's article, we'll provide you with a comprehensive comparison of the two units in terms of price, utilities, and ease of use.
Image
The Winner (#1)
The Runner-up (#2)
The Winner (#1)
Image
The Runner-up (#2)
Image
Differences Between Honda EU3000iS Vs Yamaha EF3000iSEB
At first glance, you are sure to be impressed by the ergonomic look of both machines.
The Honda EU3000iS comes in a striking red color, while the Yamaha EF3000iSEB has a bright blue color, which will add a little touch to your workshop/garage.
Below are some of the things these units share in common:
A gas gauge to monitor gas consumption
Fuel tank capacity
2800 running watts
Last up to 20 hours on 25% gas
Smart throttle for gas efficiency
Price
The Yamaha EF3000iSEB costs around $2200 on its original website, while Honda EU3000iS offers a slightly lower price than its opponent, at around $1800.
It also depends on where and who you buy these units from, but the approximate price gap of $400 will be what to make potential consumers think twice before purchasing either machine.
Key Features
The first difference you can see by looking at the machines is the built-in wheels.
Yamaha EF3000iSEB has 4 integrated wheels, adding more portability; the unit weighs around 150 lbs, which is somewhat heavy to be carried around.
The Honda EU3000iS is a little less heavy, weighing around 130 lbs. Two people can lift it at ease; however, you'll need highly strong arms to move the unit around by yourself.
Even though you might also purchase additional wheels, this is still a significant downside to the Honda EU3000iS.
You'll be happy to know that the two units' noise level is decent, if not quiet. You won't have to worry about waking up your neighbors on a Sunday morning because you're just trying to run your RV.
Honda EU3000iS noise level is around 51 dBA and 52 dBA (Eco on) with the Yamaha EF3000iSEB. Still, this doesn't make that much of a difference.
Speaking of fuel efficiency, once again, there's nothing much to discuss. You might notice a small variation of the running time as Yamaha EF3000iSEB lasts 30 minutes longer than its competitor on one tank of gas.
Easy of Use and Maintenance
As for the ease of use, you only have to follow the instructions found on the user manual, and you should be good to go.
We suggest you do some test runs before using for the best experience with both units. Honda and Yamaha both provide you with a warranty of 4 years, which seems decent and reasonable.
Quick Rundown Of Honda EU3000i
Pros:
Parallel connection capability for double power
Very quiet with a noise level of 51 dBA
Fuel efficient thanks to the smart eco-throttle
Auto shut off when the machine is low on oil
Convenient one-pull start
Cons:
An oil leak can happen due to lack of care in delivery
Quite expensive
Relatively heavy

Quick Rundown Of Yamaha EF3000iSEB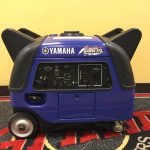 Yamaha EF3000iSEB
The Boost Control Unit (BCU) senses when extra power is needed and boosts output for up to 10 seconds
Sound absorbing material, used in key locations, does not resonate sound. Newly designed muffler and molded fan produce unbeatable noise reduction
Greater fuel efficiency and noise reduction by automatically adjusting engine speed to match the load
Continuous operation for up to 19 hours without refueling
Recharge 12 volt batteries for RV, auto, or marine, etcetera
Pros:
Built-in wheels for more portability
Low noise level thanks to the sound-absorbing material
Fuel efficient as the unit automatically adjust the speed to match with the gas load
The decent running time of 20.5 hours
Comes with a pulse width modulation monitoring to provide clean AC power for microcomputer-contained devices
Cons:
Quite pricey
Require 2 strong people to move it around as it's heavy

Conclusion
Honda EU3000iS Vs Yamaha EF3000iSEB, have you made up your mind on which one to choose yet? Let's break it down to make it easier for you.
The Honda EU3000iS makes a good investment in terms of price, but if you need a machine that is easy to move around and have a budget to spend, opt for the Yamaha EF3000iSEB.
Popular Alternatives Worth Considering: