Honda EU2200I and EB2200I: Which portable generator is the better option for you? Still, have no idea? Let's scroll down to find the answer!
Differences Between Honda EU2200I and EB2200
Below is a summary of the specifications:
Image
The Winner (#1)
The Runner-up (#2)
The Winner (#1)
Image
The Runner-up (#2)
Image
Power Comparison
There is a similarity in the engine type of Honda EU2200i vs EB2200i. Both of them run on a 121 cc Honda GXR120 4-stroke engine powered with Gasoline. The advantage of this fuel is better emission as well as energy transformation.
Due to the same engine and fuel tank of 0.95 gallons, both EU2200i vs EB2200i can produce the peak wattage of 2200 and the rated wattage of 1800.
Plus, there is no difference between these generators in terms of run time. With a full fuel tank, they can run up to 3.2 hours at the rated load and 8.1 hours at the ¼ load.
In general, the level of energy consumption of these models reaches 0.12 GPH. Additionally, the THD less than 3% makes the generators more suitable even for sensitive electronics.
According to reviews of many users, two generators of Honda in this comparison show a considerably quiet operation. Their noise output only ranges from 48 to 57 dBA, quite low for you to hear clearly when the machines are running.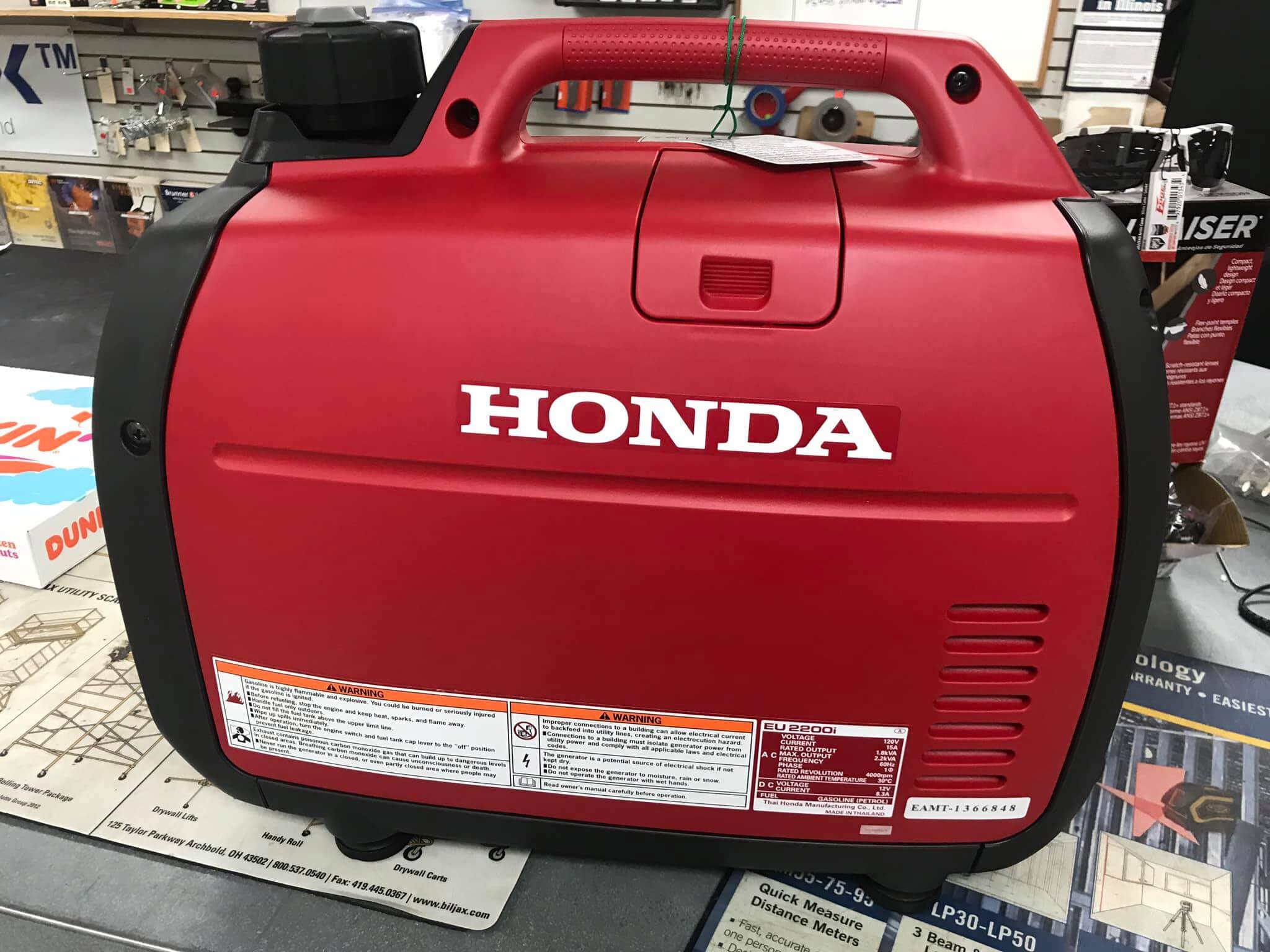 Design Comparison
Honda EU2200i is 20″ x 11″ x 16″ for L x W x H and weighs 40 pounds only. On the other hand, Honda EB2200i gets its dimension of 21″ x 12″ x 20″ with a weight of 46.5 pounds.
When it comes to comparison, EU2200i surely owns a more compact design than its counterpart. Hence, the machine offers you the ease of carrying and storing.
Besides, both EU2200i and EB2200i have four rubber legs to reduce vibration when their engines are working. But these models lack a sturdy frame protecting the generators from strong impacts.
Not only the compact design, but the generators also come with high durability. They feature stamped metal recoil ropes as well as the highest quality magnets.
Features Comparison
The way of starting EU2200i and EB2200i is the same when you only need to pull the recoil cord quickly and easily. Moreover, they are available with a couple of AC plugs that allow more than one device to connect.
An impressive point of EU2200i that we do not find with EB2200i is the Honda My Generator app combining with Bluetooth. The feature enables you to control the device remotely and track data of operation.
Quick Rundown Of Honda EU2200i
Sale
Honda EU2200i Generator
This popular model can operate a wide variety of appliances, making it perfect for portable use at home, camping, on the job site, or much more. Reliable Power is now at your fingertips with Honda's Inverted Generators.
So quiet, your neighbors will thank you. The EU2200i operates at 48 to 57 dBA, which is less noise than a normal conversation. This makes it ideal for camping, supplemental RV power and any other activity that requires quiet operation.
Add a second EU2200i for additional power. Two identical models can be paralleled with an optional cable or cord for up to 4400 watts of power, or time-consuming applications.
Thanks to our exclusive Eco-Throttle System, the EU2200i offers great fuel efficiency. Runs 4.0 to 9.6 hours on a single tank, depending on the load. This makes it the ideal choice for overnight power, or long-time applications.
Honda's inverter technology means stable, clean power in a smaller, lighter package. The precision of Honda's inverter technology ensures our inverter generators produce power that is as reliable as the power you get from your outlets at home.
[i2pc show_title="false" title="Pros & Cons" show_button="false" pros_title="Pros" cons_title="Cons" ][i2pros]Compact design
Lightweight
Bluetooth connectivity and Honda app for remote control
Durability
Quiet operation[/i2pros][i2cons]No protective frame[/i2cons][/i2pc]

Quick Rundown Of Honda EB2200I
Quiet operation
Low THD[/i2pros][i2cons]Heavyweight
No protective frame[/i2cons][/i2pc]

Product Videos
Conclusion
That is all we would like to mention in the comparison of Honda EU2200i vs EB2200i.
Generally, they tend to have more similarities than differences. But if we have to choose one, it should be the Honda EU2200i. Regardless of the same features as EB2200i, this model stands in a more compact form. Moreover, it is also available with a convenient modern remote app control.
How about your choice? If you have already made the final shopping decision, we are pretty eager to hear from you.