Honda EU3000IS and EU2200I: Which portable generator is the better option for you? Still, have no idea? Let's scroll down to find the answer!
Differences Between Honda EU3000IS and EU2200I
Below is a summary of the specifications:
Image
The Winner (#1)
The Runner-up (#2)
Size
25.9 x 17.6 x 22.0 inches
The Winner (#1)
Image
The Runner-up (#2)
Image
Size
25.9 x 17.6 x 22.0 inches
Power Comparison
The Honda EU2200i has a 121cc Honda GXR120 OHV 4-stroke petrol engine. When the engine is turned on, the running power is 1800W, and the full power is 2200W. In terms of noise, this model generates 48 dBA during operation.
The Honda EU3000i has a 196cc Honda GX200 OHV 4-stroke petrol engine. As it first starts, the power output is 2800W, and when it reaches its full output, it is 3000W. As a result, the noise produced during working time is a little more than its competitor, at 50 dBA.
When fully charged, the Honda EU2200i will run for 8.1 hours. As a result, the fuel tank holds 0.95 gallons. There are two AC drives, and the energy consumption is 0.12 GPH.
As compared to the Honda EU2200i, the Honda EU3000i has a longer runtime of 20 hours (when full). The fuel tank volume has also increased by 3.4 gallons. Accordingly, it produces 0.17 GPH when consuming energy and has three AC drives.
However, THD less than 3% and suitability for sensitive electronics are the two models' common points.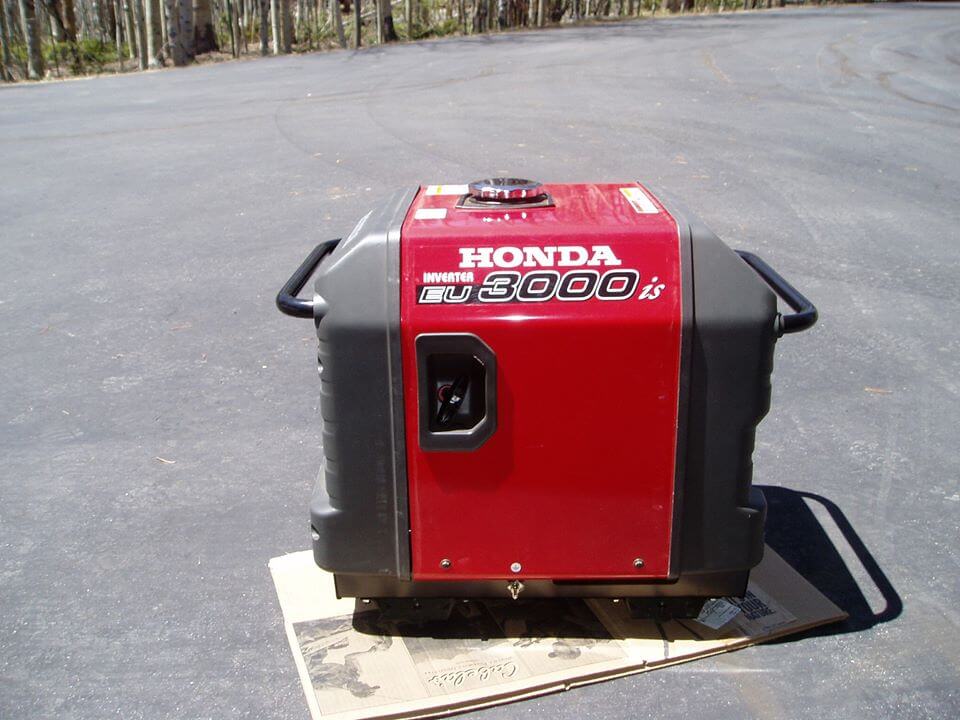 Design Comparison
The Honda EU3000i weighs 144 pounds and measures 25.9 x 17.6 x 22.0 inches. It is larger than the Honda EU2200i, which has dimensions of 16 x 20 x 11 inches and weighs 40 pounds.
However, both goods are extremely easy to transport due to the presence of a handle.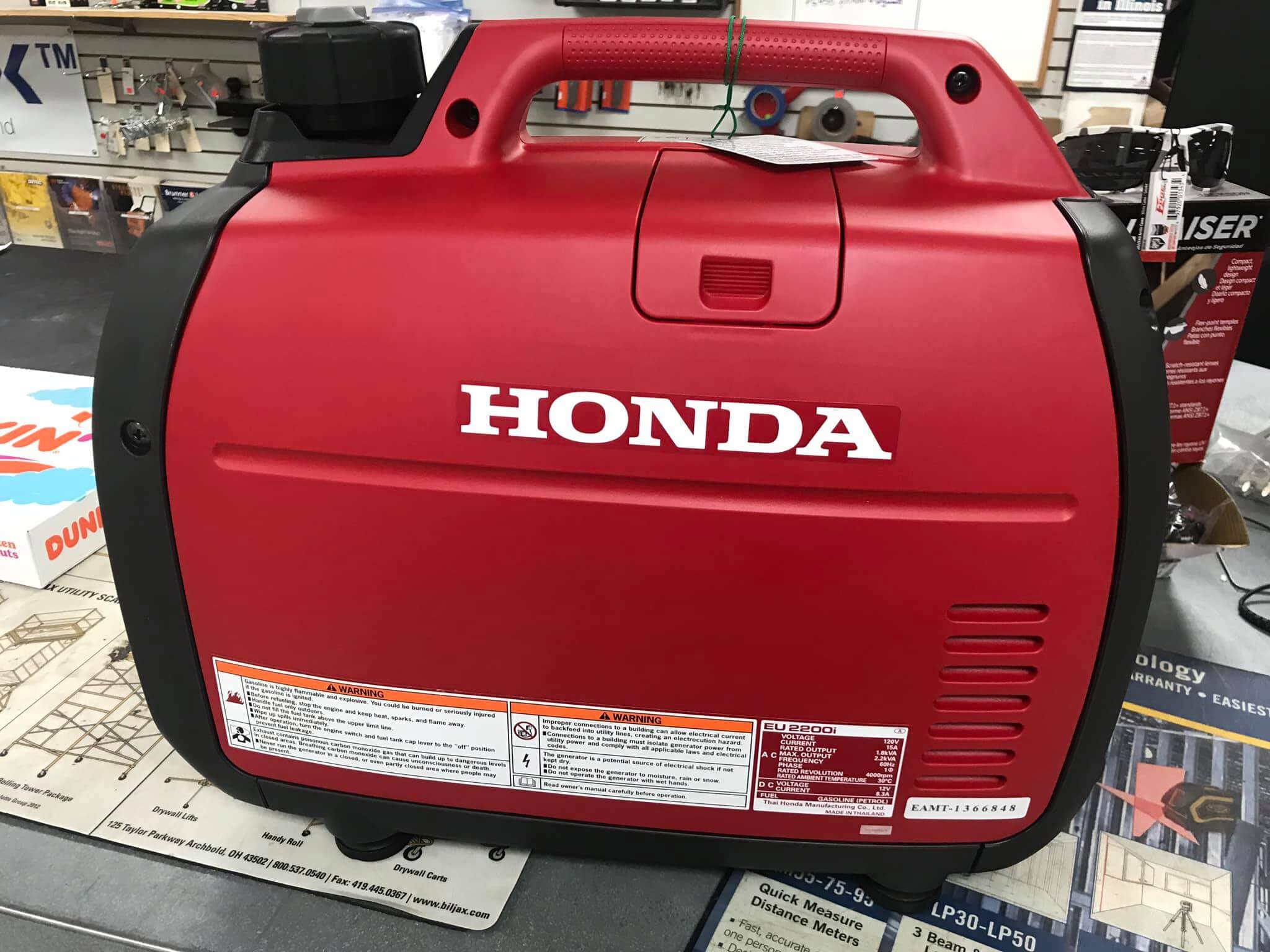 Features Comparison
The Honda Eu3000is has an additional electric starter, while the Honda Eu2200i only has a traditional boot. Furthermore, Eu2200i only has two AC sockets compared to the three AC sockets of the Honda Eu3000is.
Both are incredibly easy to use. Even the most inexperienced generator user will start this generator with only a single control knob and recoil pull cord.
For quick entry, the controls are grouped together on the generator's side. An all-in-one, user-friendly control panel with several features can be found on the front of the generator.
Quick Rundown Of Honda EU3000IS
Steel frame that is extremely silent
Warranty period: 3 years[/i2pros][i2cons]Expensive and a little slow.
Wheels are available for purchase separately.[/i2cons][/i2pc]

Quick Rundown Of Honda EU2200i
Sale
Honda EU2200i Generator
This popular model can operate a wide variety of appliances, making it perfect for portable use at home, camping, on the job site, or much more. Reliable Power is now at your fingertips with Honda's Inverted Generators.
So quiet, your neighbors will thank you. The EU2200i operates at 48 to 57 dBA, which is less noise than a normal conversation. This makes it ideal for camping, supplemental RV power and any other activity that requires quiet operation.
Add a second EU2200i for additional power. Two identical models can be paralleled with an optional cable or cord for up to 4400 watts of power, or time-consuming applications.
Thanks to our exclusive Eco-Throttle System, the EU2200i offers great fuel efficiency. Runs 4.0 to 9.6 hours on a single tank, depending on the load. This makes it the ideal choice for overnight power, or long-time applications.
Honda's inverter technology means stable, clean power in a smaller, lighter package. The precision of Honda's inverter technology ensures our inverter generators produce power that is as reliable as the power you get from your outlets at home.
[i2pc show_title="false" title="Pros & Cons" show_button="false" pros_title="Pros" cons_title="Cons" ][i2pros]The Honda engine is great.
Quite easy to use
Three-year warranty for one of the quietest items on the market.[/i2pros][i2cons]No fuel gauge.[/i2cons][/i2pc]

Product Videos
Conclusion
Overall, the Honda EU2200i generator is a decent option and a major improvement over the previous model. If you're looking for something that can handle a wide range of scenarios (whether at home or on the road), this model is worth your attention.
What do you think of the Honda Eu3000is? The Honda EU3000is's recorded run time is amazing. A home backup generator is a 3000-watt compact generator that can operate at a quarter load for up to 20 hours in an emergency.
During a power outage at home, the last thing you want is a defective generator, and you don't want to take any chances while traveling with a generator in your RV. As a result, we recommend the Honda EU3000is for protection and value for money.