What is a better way to compare two brands than comparing specific products from them? The most popular small-sized generator of Honda is the EU2200i model; as for Ryobi, it is the Ryobi 2300.
Without further ado, we're going to discuss the differences between Honda EU2200i Vs Ryobi 2300 to see which unit is better. Stay tuned!
Differences Between Honda EU2200i Vs Ryobi 2300
Below is a summary of the specifications:
Image
The Winner (#1)
The Winner (#1)
Image
Power Comparison
Both generators utilize 4-stroke internal motors, with slight differences. To be more specific, the Ryobi 2300 is equipped with an 80 cc Ryobi OHV 4 motor capable of pumping out a typical wattage of 1800W and maximum wattage of 2300W. At half load, the generator can run up to 10.3 hours.
On the other hand, Honda EU2200i can run within 8,1 hours in the same condition as aforementioned due to its 121cc Honda GXR120 OHV motor, which can provide 1800W and 2200W when pushed to its maximum potential.
Although the generator from Honda has greater wattage provision, it consumes much less fuel. With a 0,95-gallon fuel tank, Honda EU2200i only consumes 0,12 gallons per hour, which is pretty economical. However, the Ryobi 2300 also has an energy consumption of 0.12 GPH but the fuel tank is larger at 1.2 gallons.
Both generators in the discussion are suitable for supplying sensitive appliances. Specifically, Ryobi 2300 has a THD output of less than 15%, and the Honda EU2200i is less than 3%.
Regardless of efficiency, you might not want to pull the recoil starters on both generator models at late hours as they can be quite loud (Ryobi generator: 57 dBA; Honda generator: 48 dBA).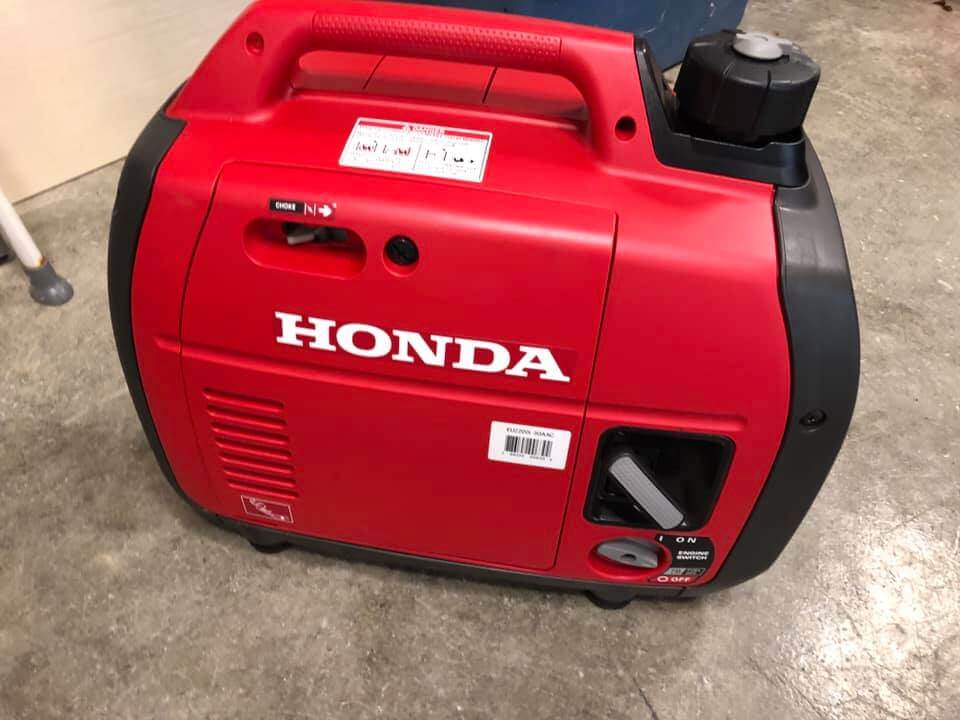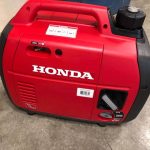 Design Comparison
The Ryobi 2300 generator has 22 x 18 x 12 inches and weighs merely 53 pounds. That's light, even for an inverter generator!
Similarly, the Honda EU2200i is 16 x 20 x 11 inches in size and 40 pounds in weight. You can see that both generators are all compact, which won't take up too much space in your house.
Both have handles to carry, however, Ryobi 2300 has wheels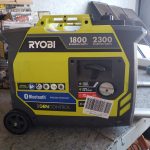 Features Comparison
If you're expecting it to come with premium features, you'll end up being disappointed. Ryobi 2300 is a decent generator; however, it only provides essential functions for specific powering tasks.
So, what features does Honda EU2200i has but Ryobi 2300 doesn't? First thing first, there is an eco throttle for fuel efficiency as well as noise reduction, which is why Honda EU2200i (is a few decibels quieter than Ryobi's.
What is more, Honda EU2200i has an auto shut off feature that will automatically turn off the machine when the oil level is too low. This will stop the engine from running with no oil, later resulting in a damaged unit.
Both machines support a parallel connection for extra power, but of course, this feature can only be used when you have two exact same units.
Quick Rundown Of Honda EU2200i
Sale
Honda EU2200i
More Power. Same Legendary Quality. - The EU2200i delivers 10% more power than the previous EU2000i - enabling you to power more of what you need, in the same lightweight, compact package. The EU2200i gives you the power to get more done.
Co-minder - Advanced Carbon Monoxide Detection System. CO-MINDER continuously monitors carbon monoxide (CO) levels. It automatically shuts down the generator before detected CO levels near the generator become dangerously high.
Honda My Generator App + Bluetooth Capability - Honda's exclusive My Generator smartphone app offers remote generator operation and monitoring with impressive performance. The app includes wireless stop and operation monitoring.
Lightweight And Compact - Weighing just over 47 pounds, the EU2200i is incredibly lightweight and portable. Thanks to Honda's inverter technology, it's easy to transport and store.
Commercial Grade Reliability - The EU2200i is powered by the Honda GXR120 Commercial Series engine. At 121cc, the GXR120 is at the top of its class - ensuring the EU2200 always produces the power you need to get the job done.

---
Quick Rundown Of Ryobi 2300
No products found.

---
Product Videos
---
Conclusion
Have you decided which generator is the winner in the battle of Honda EU2200i Vs Ryobi 2300 yet?
To be honest, it is better in the long run if you save money and opt for the Honda EU2200i. But you need a generator that works decently and doesn't exceed your budget too much, the Ryobi 2300 is a good alternative.