WEN 56225i and Honda EU2200i: Which portable generator is the better option for you? Still, have no idea? Let's scroll down to find the answer!
Differences Between WEN 56225i and Honda EU2200i
Below is a summary of the specifications:
Image
The Winner (#1)
The Runner-up (#2)
The Winner (#1)
Image
The Runner-up (#2)
Image
Power Comparison
Gasoline is the main fuel for the operation of both generators. However, the WEN 56225i has a slightly larger fuel tank capacity than the Honda EU2200i (1 gallon vs 0.95 gallons).
We also appreciate the 79.7 cc WEN OHV 4-stroke engine of WEN's model as it can generate a running power of 1800W and a maximum of 2250W.
Although the other engine of the 121 cc Honda GXR120 OHV 4-stroke also has good performance with the same running power, its maximum output starting watts are only 2200W.
In terms of working time, Honda EU2200i shows superior capacity. With the same full tank capacity, the Honda EU2200i can operate for 8 hours, while the maximum capacity of WEN 56225i is only 6 hours.
Honda EU2200i also received many compliments for its low noise level and energy-saving ability. More specifically, the product has a noise of 48 dBA and 0.12 GPH of fuel consumption. With the WEN 56225i, its working process creates 53 dBA (equivalent to an operating microwave) and consumes 0,17 GPH.
One last thing both generators have in common is that they are suitable for all electronic devices, including sensitive ones. However, WEN 56225i has a smaller total harmonic distortion than Honda EU2200i (1.2% vs 3%).
Design Comparison
WEN 56225i has 19 inches in length, 11.5 inches in width, and 18.2 inches in height. It is bigger than Honda EU2200i, which measures 16 x 20 x 11 inches.
Both of them have built-in handles, but you can carry the Honda generator easier due to its lightweight (40 pounds). In contrast, the WEN model is bulkier to carry due to its weight of 48.5 pounds.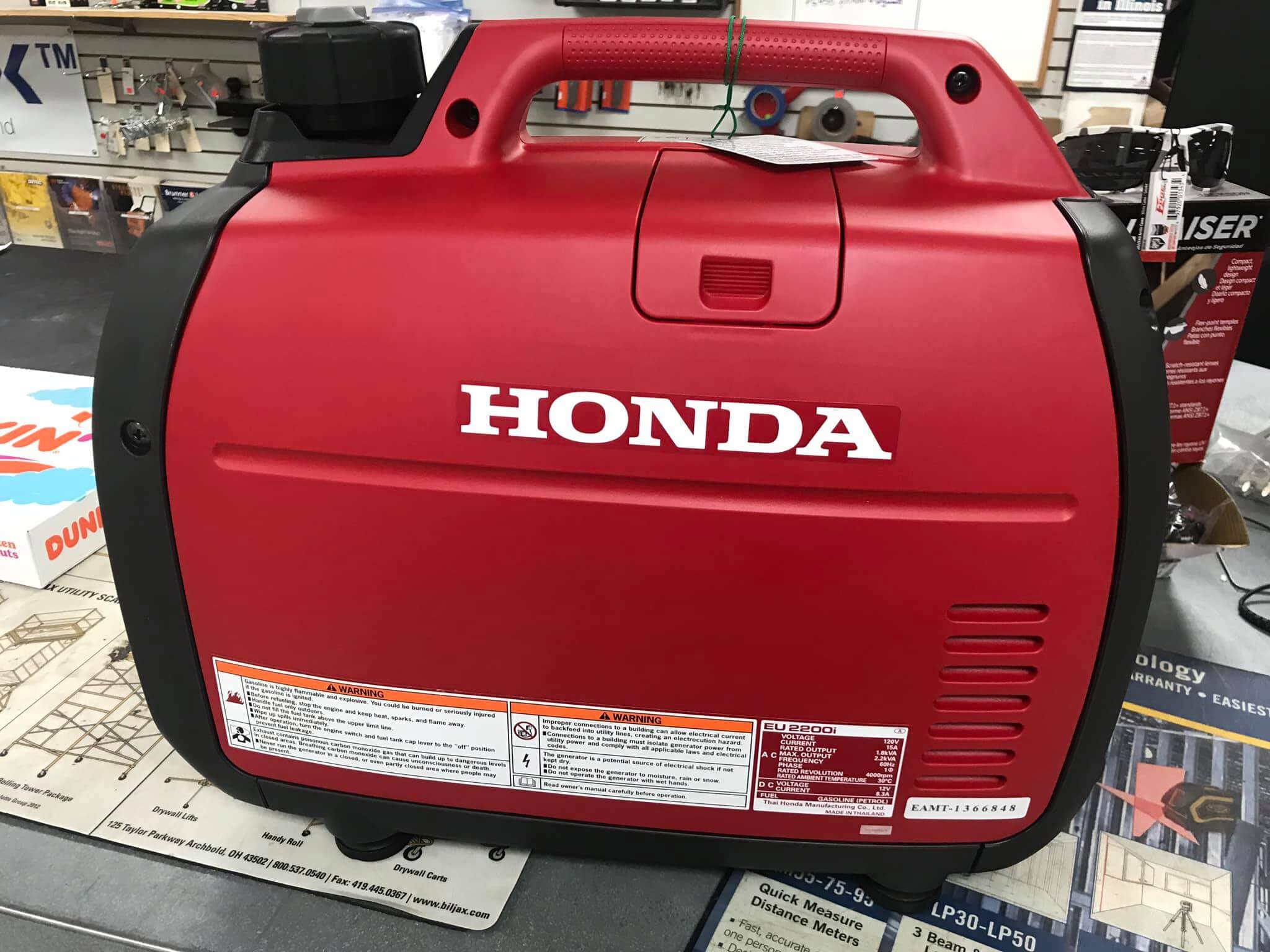 Features Comparison
Both generators start the operation by pulling on the cord. Additionally, you may interfere in the working process of the WEN 56225i thanks to the 3-in-1 switch and manual shut-off switch (for immediate shutdown).
The number of ports on both control panels is the same: two 120V AC. The WEN 56225i comes up with dual 5V USB ports, while Honda EU2200i has one 12V DC as a charging port.
Moreover, you can check the operating status of two machines through a trio of LED lights on the control panel. Some emergency signs include oil alerts, overload alarms, and output indicators.
Additionally, WEN 56225i offers users a safer experience with the reset feature while overloading.
What's more? Two of them provide parallel operation outlets, which means you can connect another generator to double the output.
You also do not need to worry about consuming a lot of fuel if the engines run overnight anymore. More specifically, the manufacturers have equipped WEN 56225i and Honda EU2200i with the same saving mode to adjust the amount of gasoline to prolong the operation time.
All you need to do is turn on these switches. (Eco-Mode button of WEN 56225i and Eco-Throttle button of Honda EU2200i).
Quick Rundown Of WEN 56225i
WEN 56225i Generator
Dimensions: 19" x 11.5" x 18.2" | Weight: 48.5 lbs.Dimensions: 19" x 11.5" x 18.2" | Weight: 48.5 lbs
Extremely quiet 53 dB operation comparable to the sound of a normal conversation according to the US Department of Health and Human Services
EPA III and CARB-Compliant 79.7cc 4-Stroke OHV engine produces 2250 surge watts and 1800 rated watts
Fuel shutoff maximizes the generator's lifespan by using up the remaining fuel in the carburetor before shutting down
Produces clean power to safely operate and prevent damage to sensitive electronics such as phones, tablets, televisions and computers
[i2pc show_title="false" title="Pros & Cons" show_button="false" pros_title="Pros" cons_title="Cons" ][i2pros]High maximum output
Reset feature
Ability to interfere in the working process [/i2pros][i2cons]Low noise level
Short working time[/i2cons][/i2pc]

---
Quick Rundown Of Honda EU2200i
Sale
Honda EU2200i Generator
This popular model can operate a wide variety of appliances, making it perfect for portable use at home, camping, on the job site, or much more. Reliable Power is now at your fingertips with Honda's Inverted Generators.
So quiet, your neighbors will thank you. The EU2200i operates at 48 to 57 dBA, which is less noise than a normal conversation. This makes it ideal for camping, supplemental RV power and any other activity that requires quiet operation.
Add a second EU2200i for additional power. Two identical models can be paralleled with an optional cable or cord for up to 4400 watts of power, or time-consuming applications.
Thanks to our exclusive Eco-Throttle System, the EU2200i offers great fuel efficiency. Runs 4.0 to 9.6 hours on a single tank, depending on the load. This makes it the ideal choice for overnight power, or long-time applications.
Honda's inverter technology means stable, clean power in a smaller, lighter package. The precision of Honda's inverter technology ensures our inverter generators produce power that is as reliable as the power you get from your outlets at home.
[i2pc show_title="false" title="Pros & Cons" show_button="false" pros_title="Pros" cons_title="Cons" ][i2pros]Quiet operation
Compact and light-weight
Energy-saving[/i2pros][i2cons]Manual recoil system[/i2cons][/i2pc]

---
Product Videos
---
Conclusion
This article has just shown you a comparison of WEN 56225i vs Honda EU2200i. If you prioritize compactness and fuel efficiency, the latter is a good choice.
In our perspective, WEN 56225i will be the first recommendation for you due to its safety features and high capacity. However, the choice will depend on your needs and how you view the advantages and disadvantages of each generator. We hope that you can come up with your favorite and suitable one.