Honda Eu3000IS and Yamaha EF3000IS: Which portable generator is the better option for you? Still, have no idea? Let's scroll down to find the answer!
Differences Between Honda EU3000IS and Yamaha EF3000IS
Below is a summary of the specifications:
Image
The Winner (#1)
The Runner-up (#2)
Size
25.9 x 17.6 x 22.0 inches
The Winner (#1)
Image
Size
25.9 x 17.6 x 22.0 inches
The Runner-up (#2)
Image
Power Comparison
Honda Eu3000Is is equipped with a 196 cc Honda GX200 OHV 4-stroke engine. This powerful engine produces peak power at 3000 watts and 2800 watts rated power. Furthermore, the advanced Honda's Eco-Throttle feature automatically adjusts the power engine to match the load. It then results in high fuel efficiency and lower noise at a small load.
At 25% load and a full tank of 3.4 gallons of gasoline, the Honda Eu3000Is can run in 20 hours. The runtime can drop to 7 hours if you run this generator at the highest electrical load. The runtime from 7-20 hours would be a reliable power source from day tonight.
Another remarkable feature of Honda Eu3000Is is super quiet. Its noise rating is 50 dB (A), which can be comparable to a normal conversation. Additionally, its THD is less than 3% making it an ideal portable generator for camping, RV power, and any other activity that requires quiet operation. It is also safe for various small appliances like lights, fans, TVs, computers, etc.
On the other hand, Yamaha Ef3000Is is powered by a Yamaha MZ175 OHV 4-stroke engine with 171cc. Like Honda Eu3000Is, the powerful engine of Yamaha Ef3000Is delivers the same standby power and prime power. It can produce 3,000 watts peak power and 2800 rated power.
Yamaha Ef3000Is come with a smart throttle to control fuel consumption better and adjust noise levels according to the engine speed. Its 3,4 gallons of gasoline can operate in continuous 18.6 hours at 25% load. At 50% load, you can expect a runtime of around 10-12 hours.
The most outstanding point of Yamaha Ef3000Is is its design. Muffler & mounted fan and sound-absorbing materials are designed to minimize noise. Its noise level is really good, too. With 53 dBA, Yamaha Ef3000Is doesn't disturb your conversation and any camping outside, or even your neighbors.
The below 3% THD is also impressive with users as it doesn't harm the most sensitive devices like computers, laptops, washing machines, etc. Its strong power is perfect for running your RV motor-home, too.
Through the above analysis about power, we can see that both generators are very similar in engine configuration & technology.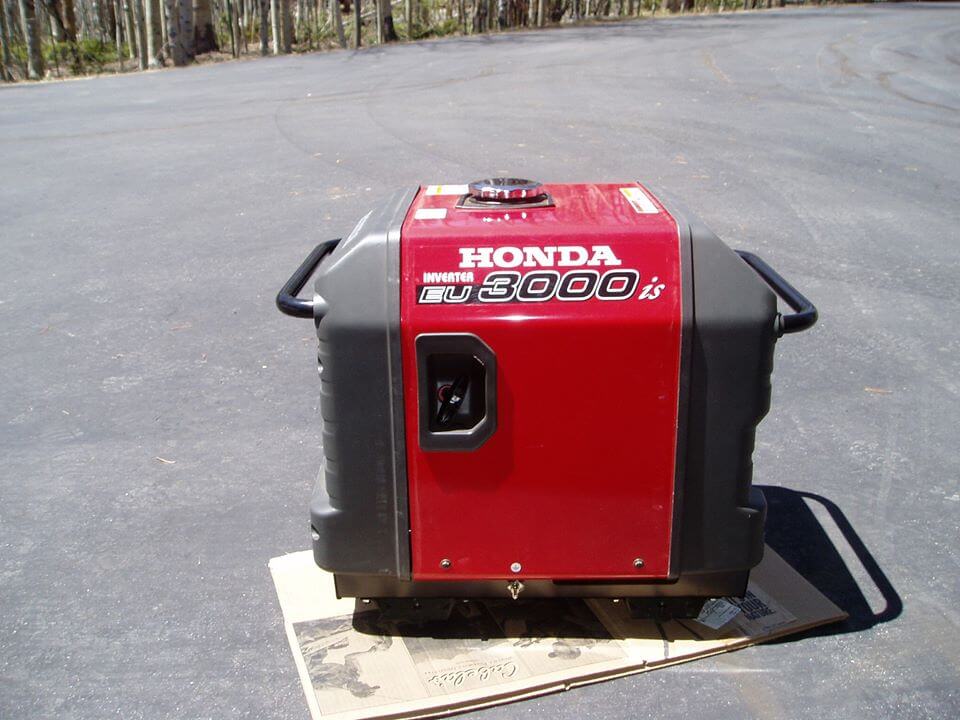 Design Comparison
Honda Eu3000Is has a compact design with 25,9 x 17,6 x 22 inches dimensions. The weights of 130,7 pounds, along with the lack of wheels and a pulling handle attached, need at least two persons to carry it together. Wheels and a pulling handle are extra accessories you can still buy if necessary.
Yamaha Ef3000Is is a bit heavier than Honda Eu3000Is. It weighs 136 pounds and measures 26.8 x 17.5 x 21.9 inches. However, it is equipped with four wheels for easy movement.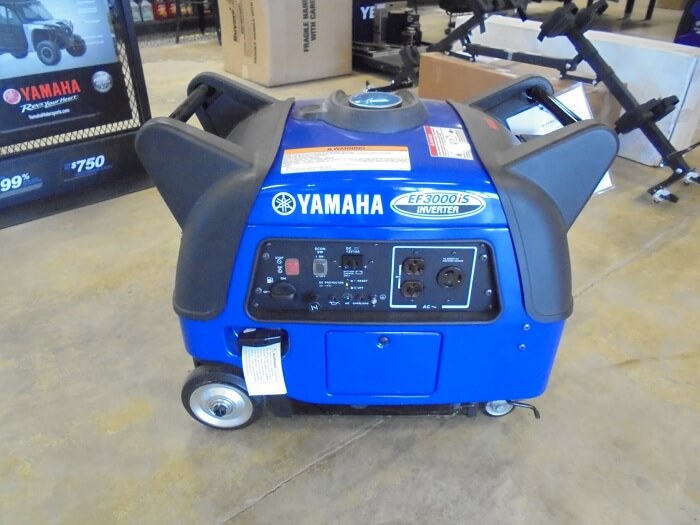 Features Comparison
Honda Eu3000Is and Yamaha Ef3000Is have the same start-up method. The easiest way is electric starting. The recoil starting is still available as a backup, which is very useful in the cold winter.
Yamaha Ef3000Is provides 3 AC outlets and 1 DC outlet. Honda Eu3000Is is ideal for two 120 volts and 20 amps outlets, a 12 volt 12 amps DC outlet, and one 120 volts 30 amps locking outlet.
The superb feature available for Honda Eu3000Is is to run parallelly with another Honda Eu3000Is to provide enough power for your whole house in outage electricity.
Honda Eu3000Is is equipped with a control panel to provide useful information to users such as output indicator, low oil alert, engine, engine switch, and fuel valve.
Similarly, Yamaha Ef3000Is also features a centralized control panel, which makes it easy to control.
The unique features of this product are its independent gasoline petcock and Yamaha's oil watch warning system to supply the cleanest fuels as well as eliminate old oils in the carb. It finally protects the engines & your devices.
Honda Eu3000Is is equipped with Protected by Oil Alert, which automatically shuts off the engine when the low oil is detected. However, it still lacks a fuel filtration system to prevent the debris from getting stuck in the carburetor.
Quick Rundown Of Honda EU3000IS
Very quiet operation.
Powerful enough for almost all devices and Air conditioning 13000 BTU.
Parallel power supply with another Honda Eu3000Is.
Fuel efficiency[/i2pros][i2cons]Less portability.
Extra fee spent on buying wheel kits. [/i2cons][/i2pc]

---
Quick Rundown Of Yamaha EF3000IS
Yamaha EF3000IS Generator
Sound absorbing material, used in key locations, does not resonate sound
Helps reduce carburetor cleaning and repairs by eliminating stale gas in the carb
Greater fuel efficiency and noise reduction by automatically adjusting engine speed to match the load
Continuous operation for up to 19 hours without refueling
Recharge 12 volt batteries for RV, auto, or marine, etcetera
[i2pc show_title="false" title="Pros & Cons" show_button="false" pros_title="Pros" cons_title="Cons" ][i2pros]Clean, stable power
Portability
Powering for almost all common devices
Equipped with more advanced technology
CARB compliant to use it in all US states [/i2pros][i2cons]High price
[/i2cons][/i2pc]

---
Product Videos
---
Conclusion
We hope that this post provides you with a detailed comparison between Honda Eu3000Is vs Yamaha Ef3000Is. In our point of view, Honda Eu3000Is the best choice