A band saw is a should-have gardening tool, yet newbie sometimes has a splitting headache when having to examine various features. And that's why I am here to offer you an in-depth insight into the fiercest battle of the two popular saws: Wen 3962 Vs Rikon 10-305.
These two both deliver outstanding features and functions, thus I will clarify each's strengths and weaknesses.
Now, no more beating around the bush, let's get on with it.
Differences Between Wen 3962 and Rikon 10-305
Image
The Winner (#1)
The Runner-up (#2)
The Winner (#1)
Image
The Runner-up (#2)
Image
Structure
Construction plays a fundamental role in deciding the durability level of any machine. These two saws are designed to ensure durable and flexible installation, yet they still deliver different features that will affect your work afterward.
While the Rikon 10-305 is uniquely designed to bolt onto a bench with a height of 35.5 inches, the Wen 3962 comes with a stand that raises it to the height of a tabletop. The 4-legs-stand of the Wen is stable, but it apparently can't surpass its rival's endurance.
However, the Rikon 10-305 has a slightly smaller cast-iron table than the Wen 3962, which might limit your working space at certain extents.
Performance
The Wen 3962 and Rikon 10-305 are guaranteed to enable a smooth cutting job as they are all equipped with a 3.5 Amp motor, which is more than sufficient for any DIY work.
But what differentiates these two is the cutting depth ability and the blade speed. Specifically, the cutting depth of the Rikon 10-305 is a downside compared to its opponent.
While you can enjoy cutting deeply and thoroughly any rough lumber with the Rikon's 6-inch blade, the rest only provides you with a 4 ⅝ cutting ability, which sometimes might struggle to cut hardwood.
Unfortunately, the Rikon, again, doesn't win when it comes to the blade speed. What makes this tool inferior to its counterpart is the availability of only one cutting speed mode at 2780 FPM.
This speed is fine to cut hardwood, yet if you need more flexibility, consider the Wen 3962 as it offers you 2 cutting modes at 1520 and 2620 FPM.
Quick Rundown Of Wen 3962
Wen 3962 Band Saw
3.5 amp motor creates cuts up to six inches deep and 9-3/4 inches wide
Uses 72-inch blades anywhere from 1/8 to 1/2 inches in size
Spacious 14-1/8 x 12-1/2 inch work table bevels up to 45 degrees
Operates at two speeds of either 1520 or 2620 FPM
Optional stand allows for either floor standing or bench top applications
Pros:
Excellent cutting depth up to 6 inches
Provides 2 cutting speed at 1520 and 2620 FPM
Comes with a LED light, which enables greater vision
Reliable dust collection
Affordable
Cons:
Quite heavy to transfer
Easy to assemble

Quick Rundown Of Rikon 10-305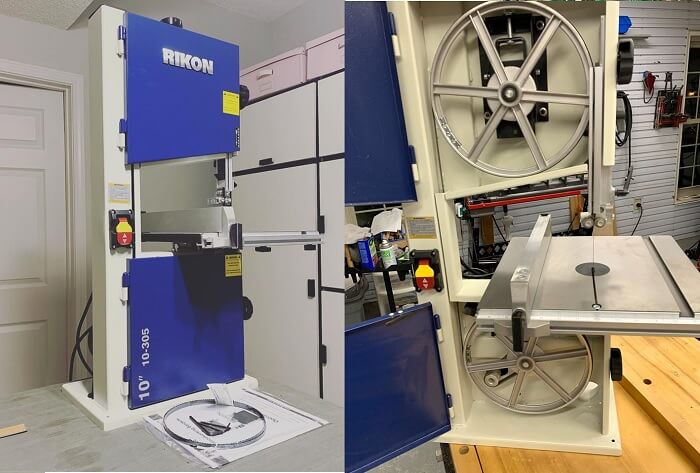 Rikon 10-305 Bandsaw
Solid Steel Design- The 10-305 is a scaled down version of the popular 10-345 and 10-325. Frame is made of steel plate, stronger than plastic frames used by other manufactures
Cast Iron Table-Large 13-3/4-Inch by 12-1/2-Inch sturdy work surface, a feature not typically found on a bandsaw of this size
Rip Fence- A quality rip fence is now included. Easily removed to do free hand work
Motor - 1/3HP motor provides ample power for cutting bowl and pen blanks
Micro Adjustable Guide Post- Raise and lower the guide post height with the turn of a handle
Pros:
Sturdy yet quite compact construction
Provides a brush to clean up any dust left conveniently
High-quality rip fence
Works smoothly for small scale projects
Long-term warranty
Cons:
Not include a miter gauge
Runs on a single speed

Conclusion
Wen 3962 and Rikon 10-305 are the two well-known products in the saw market, thus they all deliver excellent features and functions.
And, if I have to choose one, Wen 3962 will be my favorite as it takes more advantages over the Rikon for its exceptional characteristics. This Wen 3962 provides greater cutting depth, sturdy construction, a LED light, and an affordable price.
I sincerely hope that this Wen 3962 Vs Rikon 10-305 Review will be a great help in finding your trustworthy companion.
Popular Alternatives Worth Considering:
Related posts:
>>> The 10 Best Cordless Band Saw For The Money
>>> The 10 Best 14 Inch Band Saw