Many people seem to lean toward the Grizzly G0555 as it appears to be an all-time-favorite in the 14-inch bandsaw category to many wood workshop owners and woodcraft enthusiasts. However, Shop Fox has a similar version to that – the W1706, leaving customers on the fence as to which to pick.
In this article, we're going to give you a comprehensive comparison between Shop Fox W1706 Vs Grizzly G0555. Stay tuned!
Image
The Winner (#1)
The Runner-up (#2)
The Winner (#1)
Image
The Runner-up (#2)
Image
Differences Between Shop Fox W1706 and Grizzly G0555
Shop Fox W1706 and Grizzly G0555 have a quite similar construction, with the significant difference being in color and the supporting table.
As you may know, the two products are standing models, and they both feature cast iron wheels, which is highly appreciated by professionals.
Thus, the table of Grizzly G0555 only does its job as something to support the whole machine while you can take advantage of the full cabinet stand of Shop Fox W1706.
What is more, the Shop Fox W1706 comes with an extension block which provides a quick tension release mechanism for the blade tension. Grizzly G0555, again, doesn't have this.
You might think I'm biased towards Shop Fox W1706, but I'm just stating that this unit will bring you things that Grizzly G0555 cannot deliver. Don't cast a wary eye on G0555 just yet; this machine has much heavier cast iron parts with better adjustment controls whilst weighing 50 pounds lighter than that of the Shop Fox W1706.
Quick Rundown Of Shop Fox W1706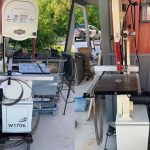 Sale
Shop Fox W1706 Band Saw
Item may ship in more than one box and may arrive separately
Motor: 1 HP, TEFC, 110V/220V, single-phase, 1,725 RPM, Amps: 14 @ 110V, 7 @ 220V
Blade size: 93-1/2-Inch (1/8-Inch to 3/4-Inch wide)
Table size: 14-Inch by 14-Inch by 1-1/2-Inch; Table tilt: 45° right, 10° left
Cutting capacity (throat): 13-1/2-Inch, Maximum cutting height: 6-Inch (12-Inch with optional extension kit D3348)
Pros:
Cast iron wheels with tires already installed
Easy setup (but you'll need someone to help lift the unit on the base as this thing is quite heavy)
Extra storing space in the enclose, solid cabinet
Hassle-free blade changes
Solid miter fence
Affordable
Multifunctional as it can cut through wood and thin metal (don't abuse this). Note: this is not a wood and metal bandsaw
Great customer service
Cons:
The rip fence tends not to lock down properly
The dust port seems to be in an awkward position for collecting dust
Kind of a pain in the neck when changing speed from 1,800 to 3,100 FPM.

Quick Rundown Of Grizzly G0555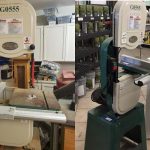 Grizzly G0555 Band Saw
1 HP motor, pre-wired 110V / 220V compatible, single-phase (11A at 110V, 5.5A at 220V)
Max cutting height: 6"
Cutting capacity at throat: 13-1/2"
All ball bearing construction w/ Upper & lower ball-bearing blade guides
Includes 3/8" blade, extruded aluminum fence and miter gauge
Pros:
Easy to maneuver blade guides
The tilt adjustment of the table is well-designed
Quick-release blade tensioner
Works great on cutting thick wood over 6"
Easy to adjust guide bearings
Solid cast iron table
Cons:
The fence is a big issue when cutting small wood planks
The knob of the blade guide lowering system requires manual adjustment, making it hard to get precise measurements

Conclusion
Shop Fox W1706 Vs Grizzly G0555 – which one makes a better investment? I assume you must have the answer to yourself now. To be honest, they aren't that different, but considering the price gap, you should opt for the Shop Fox W1706.
Popular Alternatives Worth Considering:
Related posts:
>>> The 10 Best Cordless Band Saw For The Money
>>> The 10 Best 14 Inch Band Saw