I'm sure that you have been in two minds when it comes to choosing between Wen 3962 Vs Rikon 10-306 as they both provide exceptional features and functions. To save your time and effort, my article is specially written to figure out each unit's particular characteristics and uses.
So, which saw enables smoother work? Which will grasp your admiration? Let's break it down!
Differences Between Wen 3962 and Rikon 10-306
Image
The Winner (#1)
The Runner-up (#2)
The Winner (#1)
Image
The Runner-up (#2)
Image
Performance
The 3 most vital factors in evaluating a band saw's performance are the amperage, blade speed, and cutting depth.
Taking advantage of the 5.5 amp motor, the Rikon 10-306 can run up to 5 hours continuously and cool down faster than any other band saws. The lower motor amp doesn't mean that the Wen 3962 can't manage the same workload as its rival, it is just the problem of a longer interval required between running times.
As can be observed from the comparison table above, the Wen product provides a greater cutting depth of 6 inches, which will solve any hassle and hustle wood problems.
Yet, the Rikon 10-306, again, wins in the blade speed area. This time, the Wen 3962 can no longer catch up with its opponent as the Rickon handles up to 600 FPM more than the Wen. Thus, the Rickon 10-306 will provide you with a quicker and more comfortable job.
Experience
The comfortable straightforwardness and the utilization are two of the most wonderful astonishments. These two band saws both bring you an excellent experience with a large and dustless working space. Let's see how they will blow away your trouble.
The Wen 3962 is facilitated with a built-in work light, which is not the case of the Rikon 10-306. This convenient light will protect your eyes and enable a smoother performance when you have to work under low-light conditions for too long.
However, the Rikon 10-306 has the advantage over its worktable bevel when it can tilt from -5 degrees up to 45 degrees, a comfortable level for effortless tasks.
Quick Rundown Of Wen 3962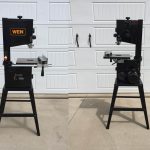 Wen 3962 Band Saw
3.5 amp motor creates cuts up to six inches deep and 9-3/4 inches wide
Uses 72-inch blades anywhere from 1/8 to 1/2 inches in size
Spacious 14-1/8 x 12-1/2 inch work table bevels up to 45 degrees
Operates at two speeds of either 1520 or 2620 FPM
Optional stand allows for either floor standing or bench top applications
Pros:
Fabulous cutting depth – up to 6 inches cutting through any rough and hard lumber
Worklight helps with precision and accuracy
Sturdy steel construction
Affordable
High-quality rip fence
Cons:
Not-ideal for high-intensity workload

Quick Rundown Of Rikon 10-306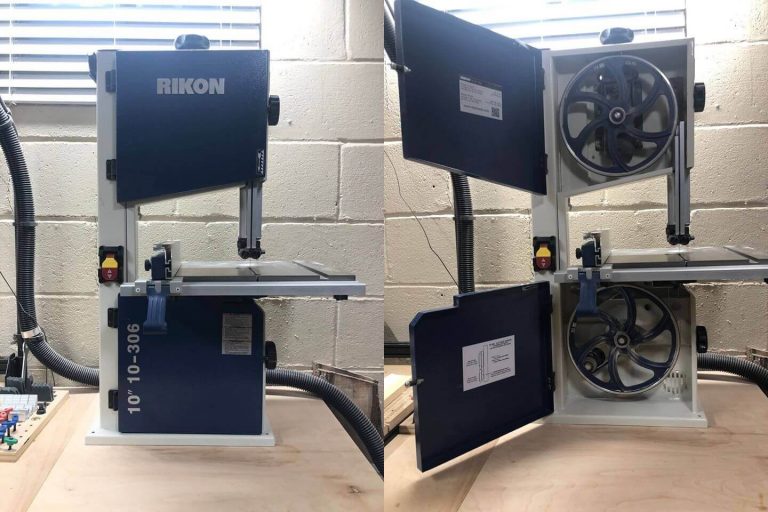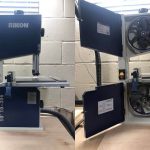 Rikon 10-306 Band Saw
RIKON 10-306 10" Bandsaw Motor: 1/2HP, 5.5amp, 110V/60Hz
Blade: width range 1/8" - 1/2"; length 70-1/2"; two speeds - 1,515 and 3,280 ft./min.; Cutting Capacity: cutting height 5" and cutting width 9-5/8"
Table Specifications: 13-3/4" x 12-1/2"; 5-deg. left tilt and 45-deg. right tilt; (1) 5/8" x 1/4" miter gauge slot; 12-1/4" x 2-3/8" adjustable rip fence
Overall dimensions: 34-1/4" H x 21" W x 16-1/4" D; base size 9-3/8" x 15-7/8"; net weight 77.5lbs.
Features tool-less blade guides; quick-release blade tension lever; large blade tracking knob and viewing window; dust port for shop vacuum hookup; and a safety paddle on/off switch. Comes with 5/16" x 6TPI regular blade and a 5-year limited warranty.
Pros:
Strong motor, which can manage heavy-duty workload at a stable pace
Faster cut with the maximum speed of 3,280 FPM
Flexible work table bevel
Reliable trunnion system
Sharp and tough blade
Cons:

Conclusion
Both Wen 3962 and Rikon 10-306 saw are proven to deliver outstanding benefits and quick-and-accurate cutting work.
Now, they all have their upsides and downsides, yet if one machine is chosen to fit you better, it should be the WEN 3962 which seizes the point as it provides better performance.
Anyway, I sincerely hope that my Wen 3962 Vs Rikon 10-306 review would be a great help for you in searching for a suitable band saw. Have a nice day!
Popular Alternatives Worth Considering:
Related posts:
>>> The 10 Best Cordless Band Saw For The Money
>>> The 10 Best 14 Inch Band Saw